United States
U.S. national teams to wear pride-inspired uniforms in June friendlies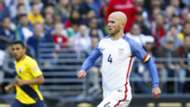 The U.S. national teams will both wear pride-inspired rainbow-colored numbers on their jerseys during June friendlies, U.S. Soccer announced Friday.
Pulisic leads Americans Abroad XI 
The men will sport the jerseys in a World Cup-qualifying warm-up against Venezuela on June 3, while the women will don the shirts in friendlies against Sweden on June 8 and Norway three days later.
To celebrate LGBTQ Pride month, the #USMNT and #USWNT will wear pride-inspired rainbow numbers.

Details: https://t.co/WwC7qCZ36z pic.twitter.com/WHJagaFMHk

— U.S. Soccer (@ussoccer) May 26, 2017
The game-issued shirts will then be available in an online charity auction. It's part of several initiatives planned in a partnership between U.S. Soccer and the You Can Play Project in recognition of LGBTQ Pride Month in June. 
Following last summer's Pulse nightclub shooting in Orlando, Michael Bradley wore a rainbow-colored captain's armband during the U.S.'s Copa America match against Ecuador. The armband was auctioned off and proceeds used to help organizations assisting victims in the aftermath of the attack.