David Luiz
Tough guy David Luiz 'is the type of player I like', says Conte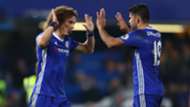 Antonio Conte has been impressed with David Luiz's form this season, but is also pleased that his key defender has been willing to play despite knee pain.
Madrid halt Barca's Bernabeu dream
The Brazil international has been struggling with a knock in his knee since being fouled by Sergio Aguero in December - a challenge that earned the Manchester City forward a four-game ban. 
Conte is particularly pleased to see the former Paris Saint-Germain player's team-first attitude.
"I am pleased for his performances because he is showing his real value," Conte said. "It is important for him, for Chelsea, for me. I like to repeat to my players a lot that it takes a lot of time to be something important and only one minute can disrupt all of this.
"It is important to continue in this way, with great focus in every game. Above all, when you are a central defender and you play in the middle, you must pay great attentions because you have to cover at the right moment. To understand the moment, to be aggressive and to cover the others.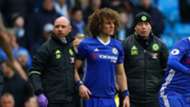 "There are some who can live with pain more than others. I think it takes a different person to take the pain in this way. I love the players who show me this type of behaviour, who put the team before themselves."
Why Martial must escape Mourinho
Chelsea have won 17 of their last 20 games in all competitions, which has led them to a nine-point lead at the top of the Premier League table, and they also remain in contention for the FA Cup. 
Conte is preparing his side for a trip to Burnley and admits that he needs to find ways to stir his players up to avoid complacency when they play against lesser opposition. 
"I like to keep the right tension in my players," he added. "Above all, when you are coming in after a good win, you can be relaxed and I try to avoid this and to work with my players to sometimes find a solution to increase tension before the game and during the training sessions.
"This is a path to improve your mentality, to improve your winning mentality. My experience as a footballer is very important, as it is important to feel the moment in the dressing room, if there is the right concentration, I feel relaxed and then I try to find a different solution [to keep focused].
Wenger: My Arsenal job not on the line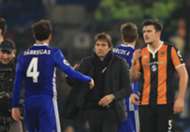 "When you have this type of game against Liverpool and Arsenal. The tension is already high - in these moments you have to be good to take the pressure from the players, it is important.
"When you play this type of game it is not necessary. Sometimes it can happen during the week, when the intensity is not high and I try to increase the intensity and tension, and to warn about the danger of the game, because on Sunday we risk a lot if we lose this intensity.
"When I was a footballer it was very important to hear my coach warn me because it is important to be focused and fight. If we are relaxed we will lose."