Joe Hart
'We didn't expect so many mistakes from an England international' - Torino president unimpressed by Hart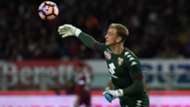 Torino president Urbano Cairo admits that Joe Hart's mistakes were an issue this season for his club. 
The Serie A side are comfortably mid-table as the season winds down, and while the England international has done some 'good things' according to the club boss, his mistakes are not what was expected from a player with Hart's credentials. 
"Hart made a few mistakes, especially when coming out for the ball," Cairo is quoted as saying by Football Italia. "He is an important goalkeeper. We probably didn't expect so many mistakes from an England international… but he did some good things, too."
Zabaleta is City's first PL star
While the goalkeeper's future is very much in doubt, the club has bigger issues to deal with. 
Star forward Andrea Belotti has a host of admirers as the summer window draws near, and Cairo believes he should stick around for another year before making a major move. 
"I have not received any requests for Belotti," Cairo said. "There are certainly many scouts observing Torino games, and I imagine Belotti, both Italian and foreign.
"I said many times, if Belotti stays for another year, he'll be doing a great thing for himself and for us. Next year he could consolidate his status, score maybe 30 goals and get to the World Cup.
"Andrea is a humble lad who wants to learn, so we've got a great rapport. I think this has been a good campaign, but there are regrets seeing some of the teams ahead of us slowing down now. We could've challenged for Europe, but in any case, we scored 65 goals, launched promising young players and Sinisa Mihajlovic built a good team.
"We chose this strategy of focusing on young players when Giampiero Ventura was the Coach and we're continuing it with Mihajlovic. Lyanco will be with us next season and he was tracked by Juventus and Atletico Madrid."
The striker's €100 million release clause is valid only for clubs outside of Italy, leaving the door open for any suitor willing to splash the cash on his signature.