Ligue 1
Super Mario's World: Balotelli praises Pogba and Ibrahimovic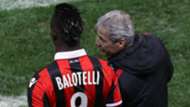 The last seven days must have been frustrating for Mario Balotelli.
Last weekend he was part of the Nice squad that fell to a derby defeat at the hands of Monaco, and has since had little chance to respond.
On Wednesday, he was given a breather by head coach Lucien Favre as the Ligue 1 hopefuls bounced back with a 1-0 home success over Saint-Etienne.
A photo posted by Mario Balotelli(@mb459) on Feb 8, 2017 at 1:31am PST
If the striker looked fired up before the match, he was left kicking his heels on the bench for much of the encounter, in which the Allianz Riviera side rediscovered their best form.
Wylan Cyprien scored the game's only goal – and Balotelli was full of admiration for the manner in which his colleague dispatched a long-range shot into the goal.
The response of the media to the Italian's place among the substitutes was to try and drum up a story about his supposed attitude issues. 
Although Valentin Eysseric suggested that Balotelli is not the ultimate team player, they were taken a little out of context as he argued his colleague was simply too much of a "perfectionist, as opposed to selfish.
"We see him every day in training – we know he's a great player," the midfielder reaffirmed on Sunday. "He's really at a level above us. He knows how to be decisive."
The former Saint-Etienne player was speaking after a 2-2 draw in Rennes, which was missed by the Italian due to a fever. Nice fought back from two goals down to salvage a good point in that clash which left them five points back from leaders Monaco.
As a result of a busy week, and a minor illness, Balotelli has been unable to get up to much by way of hijinks, although he has been hanging out with his younger brother, Enock Barwuah, a fair bit. He is also a footballer, playing in Serie D for Ciliverghe.
A photo posted by Mario Balotelli (@mb459) on Feb 10, 2017 at 11:14am PST
His thoughts have also been on Manchester, where he was pleased to see young attacker Gabriel Jesus shine, offering him some advice in relationships in the process.
Perhaps most interestingly for City fans, though, was that he admitted that he "misses" their colours.
Balotelli also took some time out to appreciate a classy gesture from Manchester United duo Zlatan Ibrahimovic and Paul Pogba, who took time out of their day to spend time with a young fan.
"You all know I'm not a Utd fan.. but a city fan for life BUT: This video goes more far than just football and is AMAZING .. we have power and we need to use it for these reasons. THESE REASONS. Good morning," he said. 
These comments only go to back up the words of Nice president Riviere, who told the New York Times this week that the player's caring nature was one of the reasons he decided to sign him in the summer.
"I asked to see the videos of his matches, the good and bad. I saw 20 bad things and just one good thing," he admitted.
"One day, after training at Manchester City, he met a small boy. He asked him what he was doing there, and the boy said he did not want to go to school because he had been bullied.
"So Balotelli took the boy to school in his car, so the boy could feel like a star, and sorted the problem out. I said that if he had done this, he must have a good heart."
Balotelli might have been stung by criticism this week, but he will have the chance to silence his doubters in Lorient next Saturday, as Nice try to get back in touch at the top of the table.