Super League
Sathia looks to former Felda striker for inspiration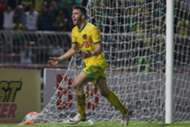 Felda United has found the going tough in the season after they finished runners-up in the Super League and qualified themselves for the 2017 AFC Cup.
Exit from the continental cup competition in the group stage as well as the FA Cup has threw a spanner in the works for Felda. The 2017 season hasn't been one of continuing the progress they made last season.
Sitting only in mid-table in the Super League standings, the signings of Gaston Cellerino and Lucas Cano has failed to ignite the same spark in the team that Lutfulla Turaev and Francis Forkey Doe managed last season.
Such is the dissatisfaction of B. Sathianathan towards the two players - he is moving to remove them from the squad in hope that Felda can still salvage their season from mediocrity.
"The lack of sharpness up front in our import strikers has been identified as the root cause of Felda's failure to challenge this far. The proof is there, we have only scored 16 goals from 13 matches."
"If fact from that number, our highest scorer Lucas Cano has only scored six goals while Gaston is at a disappointing one goal," said Sathianathan to Harian Metro.
The replacement which has been confirmed thus far is for Cellerino. His place in the squad will be taken over by a former fan favourite - Thiago Augusto. The Brazilian has been plying his trade in the Middle East since not being retained by Felda before the start of the 2017 season.
"Thiago is a striker with proven qualities during his time with Felda and Kedah. I'm confident that he's the right player to overcome our problems," added Sathianathan.
Augusto was sent out on loan to Kedah in the middle of the 2016 season and helped them to the Malaysia Cup trophy last season. The Brazilian's experience in Malaysia will surely give him a good advantage as he seeks to readjust himself to the league once again.
As for Cano, the jury is still out on him but Sathianathan vows to give the Argentine time to prove himself throughout the transfer window before a decision is made on him.