A-League
Rojas: Victory can't afford to waste chances
Goal Australia Chief Editor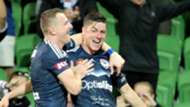 Melbourne Victory winger Marco Rojas has urged his team to be "more clinical" in front of goal in their third clash with Sydney FC this season.
Victory have taken the lead in the previous two Big Blues of the 2016-17 campaign but have failed to hold on in the second half as the A-League leaders have prevailed 2-1 on each occasion.
If the Big V had managed a draw in both those games, Kevin Muscat's side would be just two points behind Sydney rather than eight heading into Friday night's clash.
Wilkinson relishing Buijs partnership
"It was disappointing in both of those games that that [giving up a lead] happened," Rojas told reporters on Wednesday.
"But we learnt a lot from those games and we learnt that we need to be more clinical because good teams - if you're only 1-0 - they're always in with a shout and they'll put pressure on you, and [Sydney] are a good team.
"They've got good quality up front, so they're capable of scoring goals too."
The A-League's Premier's Plate will effectively be on the line at Allianz Stadium in Round 22 - Rojas reckons Victory need to win each of their last six matches to catch Sydney - as the Sky Blues will increase their lead at the top of the table to 11 points if they prevail at home.
Set-pieces can often decide tight contests, which should give Victory confidence as they have two players with the ability to score direct from free-kicks.
James Troisi produced a wonderful curling effort against Brisbane Roar earlier this year, while Rojas set Victory on their way last week in a 2-1 win over Adelaide United.
The New Zealand international declared he and Troisi find it easy to share free-kick duties.
Troisi: Victory still chasing Sydney
"We'll have a look if we get a free-kick at where the position is and have a chat about it and decide who we think is the best to take it," Rojas said.
Victory could be without Rojas, Troisi and Besart Berisha - their three leading scorers - when they visit Roar on March 25 as the trio are expected to be called up for World Cup qualifiers by New Zealand, Australia and Kosovo, respectively.
Wellington Phoenix could be missing 12 players during the same round, which has prompted co-coach Des Buckingham to ask for their game against Newcastle Jets to be postponed, and Rojas reckons it's time for the A-League to introduce international breaks.
"I understood why at the start it wasn't like that because this wasn't really happening but now it's a different story. The A-League is a different league. It's a lot better - there are better imports coming in and a few of the Australians are picking up Socceroos caps," he said.
"So it's definitely something they need to look at because it's not ideal when the [international] window comes along and three or four players are going."