Stars League
Qatar Stars League: Al Sadd refuses to give up title chase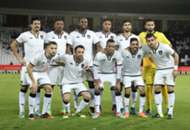 Al-Sadd coach Jesualdo Ferreira is determined to keep the pressure on Qatar Stars League leaders Lekhwiya after a 4-1 win over Al-Rayyan on Sunday night.
Speaking in the aftermath of the Qatar Clasico, Ferreira insisted that his team will not give up the chase for the title. 
"We won't give up. There are two more rounds until the end of the league. Unfortunately, we made some mistakes in the previous matches. We will work to make up for that.
Edgar starts with a bang for Lekhwiya
"I feel disappointed that we dropped points in matches which we had to win. We will attempt to return to the top and I hope Lekhwiya will slip up."
Abdelkarim Hassan feels that winning the Qatar Clasico over Al-Rayyan is a special feeling, which is different from winning other matches. The defender described the Clasico as a 'title' in itself.
Qatar working hard for youth development
However, he also pointed out that Al-Sadd still hsa to fight in order to win the title and he expressed his hope that Lekhwiya will slip up in the remaining matches, giving Al-Sadd the opportunity to go top.
With two games left to play, Al Sadd trail league leaders Lekhwiya by just two points.