Eredivisie
Pasquali still awaiting Ajax transfer clearance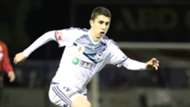 The career of former Melbourne Victory attacking midfielder Seb Pasquali has stalled since joining Ajax, with the 17-year-old still awaiting a FIFA clearance, according to a report in the Herald Sun.
The Australian youngster has yet to play a game for Ajax as he awaits FIFA approval of his international transfer.
FIFA doesn't allow international transfers of players under the age of 18 but Pasquali is exempt from that rule because he holds an Italian passport and is allowed freedom of movement within the European Union.
According to the Herald Sun, FIFA's player status committee is taking extra time to consider Pasquali's case because he is transferring from a non-EU country.
"We don't have the clearance from the FIFA yet, the procedure is still pending," a spokesperson from Ajax told the Australian newspaper.
Victory teenager set for Ajax move
Pasquali was the talk of the A-League in the first few weeks of the season after he shone in his senior debut against Juventus in the International Champions Cup but just days before he was set to sign a contract with Victory he left the club to join Ajax.
Victorian labour laws meant Victory had to wait until Pasquali was 17 before he could sign a contract and the opportunity to join the Eredivisie giants was too good to refuse for the talented teenager from Wangaratta.
Victory youngsters flying in ICC
Pasquali, who exhibited the type of skill, vision and composure rarely seen in young Australian players, came off the bench in two of Victory's first three games of the A-League campaign, setting up the winning goal away to Adelaide United in Round 3 in his last match for the Big V.
At his unveiling in November, Pasquali - who has signed a contract until the end of the 2017-18 season - declared it was an easy choice to join Ajax.
"It is a club that has produced many big players like Johan Cruyff, Marco van Basten and Patrick Kluivert," he told Ajax's website.
"Young players always get an opportunity. That appealed to me the most."
Another young Australian with a Victory connection - defender Thomas Deng - is also struggling to make a mark in the Netherlands although he is eligible to play.
The 19-year-old, who is on loan at PSV, has played just 14 minutes in three games for the Eindhoven-based club's youth team.