World Cup
No Salah, no party as Suarez sinks on World Cup return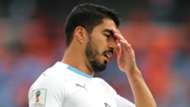 Billed as a meeting of Luis Suarez and Mohamed Salah, Uruguay's opening World Cup fixture against Egypt in Ekaterinburg failed to produce either.
While the Liverpool ace was kept pinned to the bench by head coach Hector Cuper as he continues his rehabilitation from a shoulder issue picked up against Real Madrid in the Champions League final a month ago, it seemed an imposter had taken over the body of his South American counterpart.
Although Uruguay pinched the match with a couple of minutes remaining, Jose Gimenez heading home a free kick, the form of their star man offered cause for concern.
After five minutes, the Barcelona ace turned to his team-mates frustrated as he implored them to press their opponents higher up the field. That incident, though, was to prove a mere start to the exasperation the 31-year-old was to feel.
Uruguay as a team struggled, particularly in the first half, but this inability to live up to their potential was personified in the form of the attacker.
He spurned a golden opportunity midway through the first half when he haplessly planted a close-range shot wide following a corner and later allowed a potentially decisive pass to bounce off his boot and out for a goal kick.
After the break, his fortunes got no better. Strike partner Edinson Cavani released him in the first minute after the restart, but Mohamed El-Shenawy blocked his effort from a testing angle.
As time wore on, Suarez looked increasingly at a loss but remained prominent in the few opportunities that were created. When he had just the goalkeeper to beat, he dithered too long and allowed El-Shenawy to muffle the ball at his feet.
It is not the Suarez who scored 31 times in 51 outings for Barcelona this past season.
With three minutes remaining, Cavani pulled rank over his strike partner over a free kick on the edge of the area. Having earlier exerted the goalkeeper to the maximum with a fine volley, the Paris Saint-Germain striker left the post shaking with what was undoubtedly the game's best moment to that point.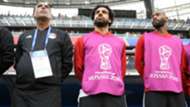 It may well be to the ex-Napoli hitman that Uruguay increasingly look to in the matches ahead, although on this occasion it was the Atletico Madrid centre-back spared his blushes.
Uruguay, though, are a team used to starting slowly in World Cups. This victory marked the first time since 1970 that they have won their opening fixture and even these three points were achieved with the utmost difficulty.
While Suarez has been bought time to grow into this competition by Gimenez's header, Salah will have no such luxuries. If he can prove his fitness before Egypt face Russia next, nothing short of delivering a victory will be enough to keep his side's hopes of reaching the last 16 burning.