Manchester United
Mourinho admits to Manchester United EFL Cup final 'problem'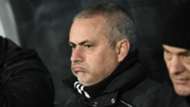 Jose Mourinho claims Manchester United are facing a "problem" after booking their place in the EFL Cup final.
The Red Devils stumbled their way to Wembley on Thursday as they secured a 3-2 aggregate victory over Hull City in a two-legged semi-final.
Mourinho confirms Martial start
Losing 2-1 at the KC Stadium ultimately cost United nothing more than the end of a 17-match unbeaten run, with a Paul Pogba effort seeing them over the line.
Progress has, however, added another fixture to an already gruelling schedule and forced other outings to be rejigged.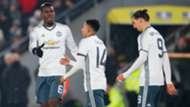 Mourinho admits that continuing to compete on multiple fronts is going to push United to the full, with there a top-four challenge in the Premier League, a FA Cup campaign and Europe League quest to complement a shot at League Cup glory.
"It's very difficult," Mourinho said of United's chances to improve their league standing.
"Now we have a problem already, which is the fact that we don't play Manchester City when we should and then we play Europa League.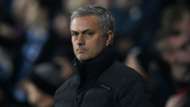 "Europa League is not like Champions League with four fixtures for two matches. In Europa League's case, if you progress for fixtures for four matches the week before the final, Southampton we will prepare for the final, we'll play at St Etienne, the second leg of the Europa League, if we progress in the FA Cup, another round will come.
"It's really difficult for us but it's difficult for good reasons, and the reasons are we progress in competitions."
United are currently sat sixth in the Premier League table, four points adrift of the Champions League places.
Their immediate focus is locked on a FA Cup fourth round clash with Wigan Athletic on Sunday, but attention will be switched back to the league after that as fixtures against Hull City, Leicester and Watford carry the Red Devils into a Europa League last-32 showdown with St Etienne – with the EFL Cup final coming on the back of those continental outings.