Transfers
AC Milan confident of Donnarumma renewal after meeting with family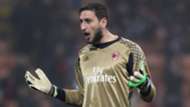 AC Milan are confident about signing Gianluigi Donnarumma to a new contract after meeting with the goalkeeper's representatives and family, Goal understands.
Conti arrives for Milan medical
Milan CEO Marco Fassone and sporting director Massimo Mirabelli sat down with agents Mino and Enzo Raiola and Donnarumma's parents at the Radisson Blu Hotel on Thursday in Milan, and both sides walked away from the meeting optimistic a deal will get done.
Fassone said on Tuesday that he felt the club was "very close" to agreeing a deal with Donnarumma, whose current contract expires at the end of the 2017-18 campaign.
"I think that the part of the deal regarding the player and family is close, the other is more complicated," Fassone said, alluding to Mino Raiola's demands.
"It is a large package deal involving salary, benefits, clauses, a commission, possible clauses on future sales of the player."
The development comes just three weeks after Milan confirmed that Donnarumma had rejected a new contract, with the Italy international experiencing a change of heart over the last week.