Transfers
Man Utd target De Vrij free to leave Lazio this summer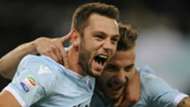 Stefan de Vrij will not be returning to Lazio after his contract expires this summer, the Serie A club have confirmed.
The 26-year-old Netherlands international, who is a rumoured target of Manchester United, has been in negotiations with Lazio over a new deal but was unable to come to an agreement.
The club's sporting director Igli Tare confirmed a breakdown in talks, with Lazio having pulled their final offer off the table.
And with De Vrij's current deal set to come to an end at the culmination of the campaign he is free to depart Stadio Olimpico
"Lazio have withdrawn the proposal we made for a new contract to De Vrij," Tare told Mediaset Premium.
"We are withdrawing for reasons that we will explain later on. It was a choice made after many months of negotiations, but there is also a limit to how things went.
Though De Vrij has been free to discuss offers from other clubs since the turn of the year, Tare insists that the decision to pull out talks with one of their star assets is not down to him agreeing terms elsewhere.
"He has been an exemplary professional and we thank him for that. He gave a lot to the club, just as we gave a great deal to him, but our paths will divide in June.
"It's not an issue of him agreeing terms with other clubs, but of being fair in negotiations. We did things the right way, but things changed at the last moment.
"We no longer wish to continue along this path."
Though De Vrij is not returning, he was in the starting XI for Lazio as they faced Hellas Verona on Monday evening.
There has been reported interest from multiple Premier League sides for De Vrij, with Chelsea, Liverpool and Manchester City joining the Red Devils as the teams who would like to secure the defender's signature.
De Vrij also is rumored to have interest from Lazio's Serie A rivals Juventus and Inter.
The centre-back joined Lazio in July 2014 from Feyenoord for a reported fee of €7.5 million and has gone onto play spend four seasons with the club.
He already has four goals this season, which has equaled his career-high from Feyenoord in 2013-14.
Internationally, he has been capped 31 times by the Netherlands and has scored three goals.