MLS
Schmid hired as LA Galaxy coach after Onalfo dismissal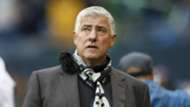 The LA Galaxy have fired Curt Onalfo and replaced him with Sigi Schmid, who returns to the club he led to an MLS Cup title in 2002.
Galaxy at 22/1 odds to win MLS Cup
Schmid has been out of coaching since being fired by the Seattle Sounders in July 2016 after eight seasons with the club. A two-time MLS Coach of the Year, who also won the 2008 MLS Cup with the Columbus Crew, Schmid is the winningest coach in league history with 254 victories across the regular season and playoffs.
Onalfo leaves after just a half-season as head coach, having steered the Galaxy to a 6-10-4 record. The former Kansas City and D.C. United boss had been with the Galaxy since 2011, serving as an assistant coach under Bruce Arena before leading the club's USL affiliate from 2014 to 2016.
"After a great deal of evaluation and careful consideration, we believe that Sigi Schmid is the best person to coach our team for the remainder of this season and into the future," LA Galaxy president Chris Klein said in a news release.
"Sigi is one of the most experienced coaches in the history of soccer in the United States and he is an extremely successful manager that has proven himself to be a winner within Major League Soccer. Sigi has been one of the best coaches the history of our league and we have full confidence in him to lead our team moving forward."
LAFC hires Bradley as head coach
The 64-year-old returns to Los Angeles after coaching UCLA from 1980 to 1999 and leading the Galaxy from 1999 to 2004. Schmid also served as an assistant coach for the U.S. national team at the 1994 World Cup and had two stints as head coach of the U.S. Under-20 squad, from 1998 to 1999 and in 2005.
"In the city of Los Angeles and throughout North America, the LA Galaxy are the iconic standard of success and innovation within soccer," Schmid said. "I am very proud to return to the Galaxy and I know the expectations here are to win championships each year, beginning with a sixth MLS Cup."