Ronald Koeman
'I would never coach Real Madrid' - Koeman dreams of being Barcelona boss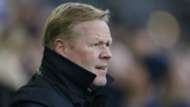 Everton boss Ronald Koeman has admitted that his "dream" is to coach Barcelona.
The Dutchman scored the goal that won the Catalan side their first European Cup back in 1992, and has been linked with a return to Camp Nou this summer, when Luis Enrique steps down from his position as head coach.
However, Koeman does not envisage leaving Goodison Park immediately.
"In my life as a professional coach, I have two dreams to fulfil," he told Sport. "The first is to coach my country, the Netherlands. I would have been able to do so, but my contract with Everton prevented me.
"My other wish, my other dream, is to one day coach at Barca. That's the truth.
"Now I owe Everton. We have a very powerful and exciting project and we will reinforce as best we can to reach next season's Champions League."
The 54-year-old, however, did not totally discount the possibility of going to Spain if the clubs were to reach an agreement.
"In football, as in life, everything can be talked about and discussed," he said.
However, there is one destination where Koeman certainly won't find himself in the summer.
Wenger: Why Mbappe snubbed Arsenal
"I would never coach Real Madrid, although I have a respect for the team and the institution – it's impossible," he said.
"Someone as meaningful as I am with Barca, with its history, I could not."