Premier League
Kilbane says Fabregas is a 'total arse' on the pitch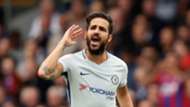 Kevin Kilbane has said Cesc Fabregas is a "total arse" on the pitch, recounting a specific incident from a 2011 match to bolster his claim.
Kilbane, nearing the end of his career, was on loan at Huddersfield – currently a Premier League side but at the time residing in League One. 
Speaking on the "Off The Ball" show on Thursday, Kilbane recounted a 2011 FA Cup fourth-round encounter between his side and Arsenal, where Fabregas was a star midfielder at the time. 
Fabregas was "an absolute arse on the pitch" as @kdkilbane77 remembered tonight #OTB #Arsenal pic.twitter.com/iEQvHlCamh

— Off The Ball (@offtheball) November 2, 2017
"Cesc Fabregas was a total arse," Kilbane said when asked about any players he found to be particularly objectionable during his playing career. 
"He was an absolute arse on the pitch, Fabregas. So disrespectful. Just mouth.
"The one thing that stuck in my mind - I was playing at Huddersfield, you know, I was on loan at little Huddersfield, and we went to the Emirates.
"We were drawing 1-1, and Fabregas comes onto the pitch, and he was going up against Joey Gudjonsson. Do you remember Joey Gudjonsson? 
"He goes up to Joey Gudjohnsen and he says, 'You're sh*t, your team-mates are sh*t' and to be fair to Fabregas he scored a penalty and I was like, 'Cesc, this is Huddersfield mate, what are you doing?' 
"Like Jesus Christ, come on, give me a break. 
"Time and a place. Do it to Paul Scholes or Roy Keane, not Joey Gudjonsson."