Premier League
Justin Meram turns down Iraq call-up due to travel ban fears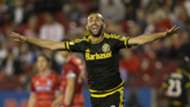 Columbus Crew midfielder Justin Meram has turned down an international call-up to Iraq due to fears of complications from the United States' new travel ban.
Meram was born in the U.S. but has represented Iraq internationally since 2014. He has dual citizenship through his parents, who were both born in Iraq. 
After Iraq was one of seven countries on the Trump administration's original travel ban that was struck down by the courts, the nation was left off a revised travel ban that was introduced earlier this week. But despite that exclusion, Meram has still opted against representing Iraq in important World Cup qualifiers against Australia and Saudi Arabia later this month. 
Part of the reason may be because Iraq currently is not able to host qualifiers, instead playing in neighboring Iran, which is on the list of countries affected by the ban put into place by U.S. President Donald Trump.
"The current FIFA sanctions that do not allow the Iraq National Team to play home matches in our country hurts us in so many ways," Meram wrote Sunday on Instagram. "Specifically, we lose all the passion and support that we receive when we play in front of our amazing fans in Iraq.
"I wish I wasn't in this situation. I'd love nothing more than to be there alongside my teammates in the upcoming games, but for reasons outside of my control, I will not be participating in the upcoming World Cup Qualifiers."
Arsenal fans call for 'Wexit' ahead of FA Cup clash
The Iraqi Football Association confirmed Meram's absence in a statement on Facebook, in which it said the 28-year-old turned down the call despite a "considerable effort" on the part of the federation.