Indian Super League
ISL 2017: FC Goa's Sergio Lobera – Winning is important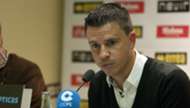 FC Goa coach Sergio Lobera exuded confidence ahead of the fourth edition of the Indian Super League (ISL).
 
The Gaurs finished at the bottom of the table last time around and are keen to undo the wrongs from the last term. Out went Zico and in came Sergio Lobera.
 
"We have put together a team from scratch. I will introduce my philosophy. Winning is important, but so is the need to focus on style. We will play the short passing game.
 
"For me, it is a pleasure to be able to substitute Zico. It's not the pressure of any kind. Instead, it's great motivation. Zico has been a great footballer and, in my eyes, he is a great coach too," said the FC Goa coach.
"He (Zico) is also one of the big names in the football world. But, in my opinion, what's most important is the club. Coaches change, but what's left are the clubs, the fans and the people linked to the sport," he added.
Lobera was asked as to why his club opted to sign six foreign players from Spain. He mentioned that each and every player they have roped in this season has been done so after a lot of research.
"We did a lot of research and had plenty of discussions before zeroing in on the names. There is a particular style of football that I want to play and we chose players based on that philosophy and ideals in conjunction with the image that the club wanted to project this year. We chose to get some players who are familiar with the system and we also got some players who we feel have great potential to excel in this system," he explained.
On being asked to share his thoughts on the standard of Indian players, Loera only had positive things to say.
"I am happy with the standard of the Indian players in the team. They are willing to imbibe what is taught to them. I won't single out anyone. Three (Narayan Das, Pronay Halder and Manvir Singh) of them have benefited from playing with the national team," said Lobera.
Goa kick-start their ISL campaign in an away fixture against Chennaiyin FC on the 19th of this month.