India
Indian Football: Praful Patel files nomination for FIFA Council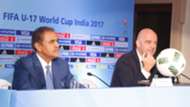 The All India Football Federation (AIFF) President Praful Patel has filed his nomination for one of the six Asian Football Confederation (AFC) spots in the FIFA Council for the 2019-2023 term.

Patel has served as the AFC Vice President for the South Asian Football Federation (SAFF) region since 2016. In 2017, he was also appointed as a member of FIFA's Finance Committee for a period of four years.

Since being AIFF President in 2012, it is under his leadership India won the rights to host the 2017 FIFA U17 World Cup. In January 2016, he was re-elected unopposed for the AIFF top post for a second consecutive term.

The AFC have six slots for the FIFA Council exclusing the FIFA Vice-President's post which is allotted directly to the AFC President. Out of the six members, one has to be an AFC Female Executive Committee Member.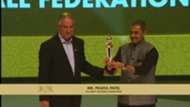 With nine male nominations filed, Patel will be competing for the five available spots for a berth in the FIFA Council. Others who have filed the nominations are: Saoud A.Aziz M A Al- Mohannadi (
Qatar
), Khalid Awad A. Althebity (
Saudi Arabia
), Mariano V. Araneta, Jr. (the
Philippines
), Mong Gyu Chung (
South Korea
), Du Zhaocai (
China
), Makhdoom Syed Faisal Saleh Hayat (Pakistan), Kohzo Tashima (
Japan
) and Mehdi Taj (
Iran
).
Patel is also one of the contenders to be re-elected as the AFC Vice-President for the SAFF region for 2019-2023. He has been challenged by Pakistan's Makhdoom Syed Faisal Saleh Hayat.
The elections of the FIFA Council positions will be monitored by personnel appointed by the FIFA Governance Committee. Meanwhile, ​the final list of candidates for the AFC posts will be published at the latest 30 days prior to the 29th ​AFC Congress in
Kuala Lumpur
, Malaysia on April 6, 2019.