MLS
IN PICTURES: New MLS jerseys for the 2017 season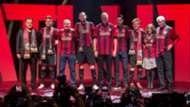 The 2017 MLS campaign is right around the corner, and with a new season comes new clubs, new players and, of course, new uniforms.
READ MORE: Preseason coverage from around MLS
Clubs across the league, from expansion side Atlanta United to MLS stalwarts D.C. United and the LA Galaxy, have introduced fresh jerseys for the 2017 season, which kicks off March 3.
Here is our rundown of the uniforms unveiled so far ...
COLUMBUS CREW (HOME)
Gold is back. And it looks even better... Now featuring @Acura. #CrewSC
>> https://t.co/mIPJoy3tGf pic.twitter.com/On2j5TXtPs

— Columbus Crew SC (@ColumbusCrewSC) February 24, 2017
TORONTO FC (HOME)
A new dawn for the Reds.
Introducing the new @torontofc primary kit.#NeverFollow pic.twitter.com/S2cEh4t3WO

— adidas Canada (@adidasCA) February 24, 2017
SEATTLE SOUNDERS (AWAY)
Born in 1974. Reimagined in 2017.

Introducing the #Sounders Heritage Kit, designed by @adidassoccer: https://t.co/hp4ZOWr5qz #BornIn74 pic.twitter.com/RMEH9aPMCy

— Seattle Sounders FC (@SoundersFC) February 23, 2017
NEW YORK RED BULLS (HOME)
MINNESOTA UNITED (HOME AND AWAY)
#MNUFC + @Target = Minnesota Made

Read Up » https://t.co/dJB2JV0HcA pic.twitter.com/z7C2zOUDCl

— Minnesota United FC (@MNUFC) February 18, 2017
FC DALLAS (AWAY)
The jersey is out!

Now see how it looks on the guys who wear them!

https://t.co/Qtd1tjgSjg pic.twitter.com/kSqXLYB7Xb

— FC Dallas (@FCDallas) February 18, 2017
ORLANDO CITY (HOME)
The new home kit! @OrlandoCitySC pic.twitter.com/3Y39DRDhLv

— Kaka (@KAKA) February 17, 2017
COLORADO RAPIDS (AWAY)
So yesterday was fun.https://t.co/xNxf6d5dnT pic.twitter.com/mkzj1tRzY3

— Colorado Rapids (@ColoradoRapids) February 16, 2017
SAN JOSE EARTHQUAKES (HOME)
The newest!! Never been more ready to put this on again. @SJEarthquakes #fireonmyfeet #ForwardAsOne pic.twitter.com/dUuumTlcs5

— Marc Pelosi (@marcPelosi) February 17, 2017
REAL SALT LAKE (AWAY)
NEW ENGLAND REVOLUTION (AWAY)
The boys looking good in the 2017 Secondary #NERevsKit pic.twitter.com/EwWQS1swVU

— NewEnglandRevolution (@NERevolution) February 12, 2017
D.C. UNITED (AWAY)
D.C. #DCU 2017 Secondary Kit: https://t.co/rQaBegWuv9 pic.twitter.com/DJXCn9Qyrg

— D.C. United (@dcunited) February 12, 2017
ATLANTA UNITED (AWAY)
1st year. 2nd look.#UniteAndConquer pic.twitter.com/7kui3SsQiF

— Atlanta United FC (@ATLUTD) February 11, 2017
HOUSTON DYNAMO (HOME)
Introducing the 2017 #ForeverOrange kit: https://t.co/vzVQ4c40M8 pic.twitter.com/h5iKhiyX9j

— Houston Dynamo (@HoustonDynamo) February 10, 2017
MONTREAL IMPACT (AWAY)
READ | #IMFC unveiled its brand new secondary jersey for the 2017 and 2018 seasons >> https://t.co/BVJdD1vszZ pic.twitter.com/Z8vQB7id14

— Impact de Montréal (@impactmontreal) February 10, 2017
SPORTING KANSAS CITY (HOME)
IT'S HERE!

Introducing our 2017 primary kit. The new uniform will be available for purchase beginning Feb. 28 ➡️ https://t.co/YxScF3SAuT pic.twitter.com/Opp8mgsfsy

— Sporting Kansas City (@SportingKC) February 10, 2017
LA GALAXY (AWAY)
Looking good, @jermainejunior. #LAGalaxy players share images of the new kit: https://t.co/IM99kTz9Z0 #OutOfTheBlue pic.twitter.com/2S4SdgzjYQ

— LA Galaxy (@LAGalaxy) February 8, 2017
NEW YORK CITY FC (HOME)
Introducing the #NYCFC 2017 @adidassoccer home jersey #NYCFCkit https://t.co/4X0dsW2JM2 pic.twitter.com/GxXVUErAdm

— New York City FC (@NYCFC) February 7, 2017
VANCOUVER WHITECAPS (HOME)
Introducing the 2017 Rain Jersey #RiseUpRainCity
More at https://t.co/TdSkbmeo1W pic.twitter.com/afMChdMXcr

— Vancouver Whitecaps (@WhitecapsFC) February 7, 2017
CHICAGO FIRE (AWAY)
Get ready, sleuths  You can win a new #cf97 secondary jersey in our Digital Scavenger Hunt!

Details  https://t.co/Fd48LNMtwQ pic.twitter.com/gbg1DR9LmK

— Chicago Fire (@ChicagoFire) February 6, 2017
PHILADELPHIA UNION (AWAY)
On sale now! Grab any style of the new 2017 secondary jersey online. #DOOP

: https://t.co/gOMX87yaHn pic.twitter.com/WdiSVfZase

— Philadelphia Union (@PhilaUnion) February 1, 2017
PORTLAND TIMBERS (HOME)
Soccer is coming... https://t.co/DyKoDuwIzT #RCTID pic.twitter.com/NrCFPF6Lm6

— Portland Timbers (@TimbersFC) January 11, 2017
ATLANTA UNITED (HOME)
Soccer on sale #ATLUTD Single Game Tickets available tomorrow!

 https://t.co/Nbmy4P0r4j pic.twitter.com/k70un3bY9z

— Atlanta United FC (@ATLUTD) February 1, 2017