I-League
I-League 2017: Soundararajan – Indian Arrows are tactically superior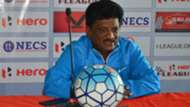 Chennai City FC kick-start their I-League campaign this Wednesday at the Bambolim Stadium, Goa when they face Indian Arrows.
Coach Soundarajan pointed that although the opposition are tactically superior, they do not have the edge going into the tie as they do not have any foreign player in their squad.
"I'm very happy to play against Indian Arrows. They are tactically superior and have practiced together for the last three years. So it's a very good opportunity for us to play against the best organized team in India.
"The only disadvantage (for Indian Arrows) is that they don't have foreign players. Apart from that, they have Under-19 boys. Our average age is around 25. At present, we have three (foreigners) registered. The fourth is expected to arrive soon," said Soundarajan.
He explained that this time around the focus has been primarily to recruit players from the state of Tamil Nadu and provide them an opportunity to showcase their talent.
"This time we are concentrating more on the Tamil Nadu players. That's why we have taken more players from rural areas. We had 11 players from the ISL last year. We had a very good pre-season. I have confidence in my players. There are many players in our team who have played in the Chennai league.
"Compared to the Indian Arrows, tactically they are very good but we have the physical advantage," he mentioned.
"Also Dharmaraj) Ravanan has got a very good experience as far playing in the ISL and the I-League is concerned and that is very useful for us," he added.