Videos
Hull City boss Silva is better than Pep! SMH slams Guardiola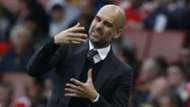 Pep Guardiola must take responsibility for the average campaign that Manchester City have had, Goal's Peter Staunton has argued.
Messi the best of all time, says La Liga chief
The Spanish manager has struggled to get to grips with his squad and is fighting just to play Champions League football next season.
In contrast, Hull City's Marco Silva has been unheralded but has already been infinitely more successful, according to our correspondent.
Check out the latest episode of SMH at the top of the page!