MLS
Goal's predictions for the 2017 MLS season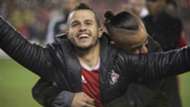 The 2017 Major League Soccer season has arrived.
With Friday's clash between the Portland Timbers and Minnesota United, the 22nd MLS campaign will kick off.
Goal previews the 2017 MLS season
Will the Seattle Sounders and Toronto FC retain conference supremacy? Can FC Dallas get over the hump and claim that elusive MLS Cup? Just how good will Gerardo Martino's Atlanta United side be in year one?
Well Goal editors and writers have again taken a crack at answering those questions and more. Here are our staff's predictions for the 2017 MLS season:
---
MOST VALUABLE PLAYER
---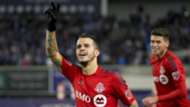 IVES GALARCEP: Sebastian Giovinco. After being snubbed as a finalist in 2016, the Toronto FC star is back to grab his second MVP in three seasons.
JON ARNOLD: Nicolas Lodeiro. The Uruguayan didn't seem to need an adaptation period to the league, but with a healthy Clint Dempsey ahead of him in an already stacked Seattle Sounders team, the attacking options could be next to limitless.
THOMAS FLOYD: Giovani dos Santos. His streaky stats should give way to consistent production on an LA Galaxy team that jettisoned its aging stars and finally built around the Mexican playmaker.
ALLEN RAMSEY: Giovani dos Santos. I like how the team sets up for him this season, with plenty of freedom to work wherever he's comfortable. 
RUDI SCHULLER: Sebastian Giovinco. The pint-sized Italian didn't take too kindly to being shut out of the MVP race last year, and he'll be highly motivated to reclaim the prize in 2017.
BEN VALENTINE: Sebastian Giovinco. After arguably getting robbed last year, the league's best player — playing on one of its best teams — will almost certainly be a finalist. Giovinco is likely to lead the league goals plus assists, again.
SETH VERTELNEY: Sebastian Giovinco. If he stays healthy, this award belongs to him until he proves otherwise.
---
COACH OF THE YEAR
---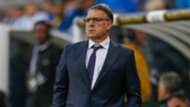 GALARCEP: Greg Vanney. An underrated tactician who has shown himself adept at coaching younger players as well as stars, Vanney should put together a stellar campaign from start to finish.
ARNOLD: Gerardo Martino. Taking Atlanta to the playoffs would make Martino just the second expansion team coach to do so since the turn of the century, and that could be enough to win the award.
FLOYD: Gerardo Martino. Atlanta's young, talent-fueled squad is an ideal fit for Martino's up-tempo style. Look for the expansion side to compete right off the bat.
RAMSEY: Peter Vermes. There's plenty to like about Vermes and his style, but it's the Sporting Kansas City team he's got this year to put that plan into action that will make the difference. 
SCHULLER: Greg Vanney. TFC's boss has been steadily improving since he took over the job in 2014, and with his team looking like a genuine contender again he could be rewarded with this individual accolade.
VALENTINE: Patrick Vieira . The Frenchman turned around New York City FC last year in the face of difficult circumstances. His second year should go even better as he knows the league and his players' capabilities.
VERTELNEY: Veljko Paunovic. This award often goes to a coach who engineers a big turnaround, so the Chicago Fire boss is a prime candidate if he can get the league's worst team in 2016 into the postseason this year.
---
DEFENDER OF THE YEAR
---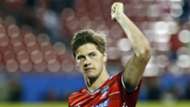 GALARCEP: Walker Zimmerman. A year after Matt Hedges won it, Zimmerman joins his FC Dallas teammate as an honoree.
ARNOLD: Kendall Waston. The towering Costa Rican could have a bounce-back year with the Vancouver Whitecaps after his excellent 2015 campaign was followed up with a less stellar 2016. The combo of his defensive play with his skill in the box could woo voters.
FLOYD: Jonathan Mensah. The Columbus Crew seem poised for a return to prominence with the Ghana international anchoring a revamped back line.
RAMSEY: Jonathan Mensah. Let's be clear: There are plenty of reasons this might not work out. But Mensah's high end is very, very high. 
SCHULLER: Roman Torres. If the Panamanian can stay healthy he has the chance to be extremely influential this season in Seattle.
VALENTINE: Justen Glad. The Real Salt Lake center back has displayed his talent in Under-20 World Cup qualifying. His passing and poise will be on display in his second-full season as a starter.
VERTELNEY: Jelle Van Damme. Already the best center back in MLS, JVD will get his due after almost winning this award in his first season with the Galaxy.
---
GOALKEEPER OF THE YEAR
---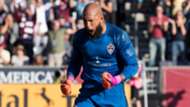 GALARCEP: Andre Blake. The Jamaican shot-stopper continues to impress, and his numbers should improve on a revamped Philadelphia Union side.
ARNOLD: Andre Blake. The Union made some interesting moves this offseason, but the Jamaica No. 1 might still face a hefty amount of shots this year. He handled it well enough last year, and there's no reason he can't defend his crown.
FLOYD: Bill Hamid. After a couple injury-plagued campaigns, the 2014 Goalkeeper of the Year will get back on track — and play himself into the U.S. national team as well.
RAMSEY: Tim Howard. He can't go on forever, but expect one more incredible year out of Howard. 
SCHULLER: Tim Howard. The Colorado Rapids look to be extremely stingy at the back again, which a 'keeper like Howard can definitely benefit from.
VALENTINE: Bill Hamid. One of these days Hamid will complete a season relatively healthy, and when he does he'll again take home the league's award for top 'keeper.
VERTELNEY: Tim Howard. The veteran was a finalist last year despite only spending half the season with Colorado, so he should be a good bet for the prize if he recovers from a preseason injury.
---
NEWCOMER OF THE YEAR
---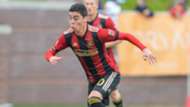 GALARCEP: Cristian Colman. As the lead striker in a potent FC Dallas attack, Colman should score goals in bunches and contend for the MLS Golden Boot.
ARNOLD: Cristian Colman. The Dallas forward fits in well with an already-lethal attack and should be able to score plenty of goals with his physical gifts and sharp movement.
FLOYD: Miguel Almiron. There's plenty of intriguing talent in the Atlanta attack, but you get the sense Almiron is this club's centerpiece going forward.
RAMSEY: Miguel Almiron. He'll be the focal point of what should be an exciting attack, and he has plenty of talent to run the show.
SCHULLER: Maxi Moralez. The Argentine will have tons of fun feeding the ball to David Villa all year long for NYCFC.
VALENTINE: Jonathan Mensah. The Crew back line needed an infusion of talent and Mensah should do a lot to stabilize the defense. 
VERTELNEY: Miguel Almiron. The Paraguayan will be given freedom to attack in Tata Martino's system, and he'll show what all the hype is about.
---
ROOKIE OF THE YEAR
---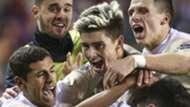 GALARCEP: Abu Danladi. Though San Jose fullback Nick Lima will be a strong contender, attacking players almost always get the nod and Danladi should have a strong rookie season with Minnesota United.
ARNOLD: Jeremy Ebobisse. This award has gone to a forward the last three years. I think Ebobisse is the best of the bunch and could give the Portland Timbers a boost off the bench.
FLOYD: Ian Harkes. D.C. United will lean on the homegrown signing, who is a perfect fit for the two-way central midfield role next to Luciano Acosta.
RAMSEY: Abu Danladi. He's an attacking player and looks likely to get handed plenty of responsibility. That's generally what it takes to be the ROTY. 
SCHULLER: Ian Harkes. The D.C. United homegrown will break the streak of forwards claiming this award.
VALENTINE: Ian Harkes. Harkes would have been near the top of the draft had he not signed a deal and, like last year's Rookie of the Year and big homegrown signing, Jordan Morris, should slot into an important role immediately.
VERTELNEY: Julian Gressel. Atlanta's midfield is crowded, but the Providence product appears to be carving himself a role anyway.
---
BREAKOUT PLAYER
---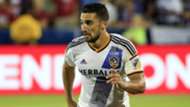 GALARCEP: Kellyn Acosta. The young FC Dallas midfielder has settled on a role and should thrive in midfield for Oscar Pareja's squad.
ARNOLD: Sebastian Lletget. The LA Galaxy midfielder has been quality since returning to the U.S. from West Ham, but his connection with Giovani dos Santos could see Da Boy become Da Man in LA.
FLOYD: Kekuta Manneh. There's more talent around the speedy attacker, who seems poised to put it all together in his fifth campaign with the Vancouver Whitecaps.
RAMSEY: Marlon Hairston. His stats from last year were solid and any uptick in Colorado's attack could lead to him racking up a ton of assists. 
MLS GM survey: Giovinco for MVP
SCHULLER: Alphonso Davies. Vancouver's teenage phenom will get a lot of playing time this year, and he will turn some heads.
VALENTINE: Sean Davis. Much has been made of Dax McCarty's departure in New York. While he's a good player, Davis has shown well in his previous chances will make sure the Red Bulls on-the-field results don't dip.
VERTELNEY: Luciano Acosta. The diminutive Argentine started to show what he could do in the second half of 2016, but a full season as the playmaker for DC United will see Acosta make a leap to All-Star level in 2017.
---
GOLDEN BOOT
---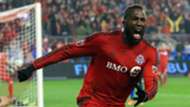 GALARCEP: David Villa. After coming close last year, Villa should run away with the Golden Boot now that NYCFC has bolstered its attack.
ARNOLD: David Villa. The dude is 35, but he's still in great physical condition and scored 23 goals last year, the season after he put in 18. The team is built to provide even more opportunities this season.
FLOYD: Jozy Altidore. The Toronto striker posted 15 goals in 21 matches between the regular season home stretch and the playoffs last year. There's no reason to believe he'll slow down.
RAMSEY: Jozy Altidore. There is not a more talented striker in the league with a bigger distraction for opponents on his team than Altidore. He'll feast on that this year. 
SCHULLER: Jozy Altidore. This is dependent on him staying healthy all year. If so, he'll have Giovinco and Victor Vazquez opening up all kinds of space for him.
VALENTINE: Bradley Wright-Phillips. He's never scored fewer than 17 goals in his three full MLS campaigns, and he topped 20 twice. Expect him to be at or near the top again.
VERTELNEY: Sebastian Giovinco. Again, there's no reason to bet against the Italian if he plays most of TFC's matches in 2017.
---
DARK-HORSE CONTENDER
---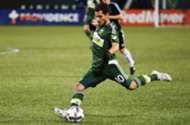 GALARCEP: Portland Timbers. The Timbers have revamped their roster and should not only return to the playoffs but be a contender for another MLS Cup title, especially if they sign a good center back.
ARNOLD: Portland Timbers. Sebastian Blanco is a nice addition to what was already a very scary midfield for opponents, even more so with David Guzman providing protection in front of a less-than-convincing back line.
FLOYD: Columbus Crew. A full season of Nicolai Naess combined with the addition of Jonathan Mensah and a breakout year for Zack Steffen should put Columbus back in the thick of things.
RAMSEY: Atlanta United. The talent is there, and if Atlanta can come together by July the expansion club could become a real contender late. 
SCHULLER: Chicago Fire. Depth is an issue, but if the Fire can get into the playoffs they have the ability to do some damage.
VALENTINE: Columbus Crew. The Crew remade their back line and have the pieces after going to the MLS Cup final in 2015. It wouldn't surprise to see them back among the contenders in 2017.
VERTELNEY: Chicago Fire. Year two under Veljko Paunovic will be much better than year one, as additions like Juninho, Dax McCarty and Nemanja Nikolic should see Chicago improve considerably.
---
SUPPORTERS' SHIELD
---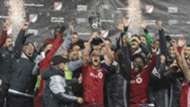 GALARCEP: Toronto FC. With a stronger home-field advantage thanks to bigger crowds at BMO Field, TFC becomes even tougher to beat, especially in the weaker Eastern Conference.
ARNOLD: New York City FC. Without some of the international commitments some of its shield rivals will have, NYCFC can log the most consistent season and rack up points behind Patrick Vieira's clever tactical plans.
FLOYD: Toronto FC. The Eastern Conference champions maintained their strong core while enjoying a sneaky-good offseason, adding Chris Mavinga and Victor Vazquez. And there's a lot of homegrown talent waiting in the wings.
Goal's preseason MLS power rankings
RAMSEY: Seattle Sounders. The key will be fitness and health for the core group, but it's going to be hard to match what Seattle can bring on a weekly basis. 
SCHULLER: Toronto FC. With a settled roster from the outset and a team that knows what it takes to win games in MLS, TFC seems primed to claim the Shield.
VALENTINE: FC Dallas. Dallas won it last year and lost it the year before on a tiebreaker. Given the additions this year and the club's depth, it seems crazy to pick against FCD taking it again this season.
VERTELNEY: Seattle Sounders. A full season of Nico Lodeiro + a healthy Clint Dempsey + year two of Jordan Morris = a lot of points.
---
MLS CUP
---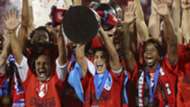 GALARCEP: Toronto FC over FC Dallas. A year after falling just short of claiming an MLS Cup title, TFC gets over the hump.
ARNOLD: FC Dallas over Toronto FC. With FCD's focus lazered in on winning the ultimate prize, look for Oscar Pareja to manage his deep squad to a postseason run that ultimately culminates in lifting the cup.
FLOYD: Toronto FC over Seattle Sounders. Both MLS Cup finalists used the offseason to improve upon their talent-stacked squads, with TFC making some underrated additions and Seattle getting Clint Dempsey back in the fold. Get ready for a rematch, folks.
RAMSEY: Toronto FC over FC Dallas. This is the year for Toronto to finish the job after coming up just short, with Dallas having a point to prove in the Western Conference. 
SCHULLER: FC Dallas over Montreal Impact. FCD finally gets the prize it has been building toward for years, against a thrilling Impact side that puts up a heck of a fight.
VALENTINE: FC Dallas over New York Red Bulls. I think these are the best two teams in MLS and Dallas will finally get over the hump in 2017. 
VERTELNEY: FC Dallas over Toronto FC. Oscar Pareja finally gets that elusive third trophy that his side missed out on last season