eSports
Goal signs eSports player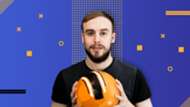 Goal has signed its first eSports player in FIFA 18 rising star, Graham "GrayzaGoal" McIntyre, to represent the world's biggest football website at global tournaments.
McIntyre, who was signed after representing Scottish Premiership side Hibernian, has been playing in his first major tournament as a Goal player in the Sportego eLeague, a FIFA 18 tournament that kicked off in January.
It has featured players from football clubs including Ajax, Manchester City and West Ham, as well as other professional eSports teams, including Epsilon, Stark eSports and AS Roma Fnatic.
Following his successful qualification for the knockout stages of the continental FIFA 18 competition, Goal will work with McIntyre to produce FIFA 18 content across Goal's social channels and on site.
Goal's marketing manager, Paul Rayment, said: "We recognise that for the modern fan FIFA plays an integral role in how they enjoy football, for some it's their primary connection to the sport.
"On Goal, we've seen this evidenced in the numbers we see for our own live streams and traffic that comes to articles on the game.
"By welcoming Graham to the Goal roster we're looking forward to adding an extra dimension to how we cover FIFA, working with him to advance his career and introduce Goal to an exciting and growing market.
"Graham's talent was evident from his performances at the early Gfinity tournaments a few years ago. More recently, his top 100 finishes in the FIFA 18 Weekend League and ending the Celtic eSport League unbeaten shows he has both skill and promise and we're aiming for him to represent Goal at major tournaments in 2018."
The Sportego eLeague is managed by Sportego and being broadcast by Goal through our social channels, with the finals to be played at a high-profile football stadium in April.