Japan v Brazil
Giuliano: I'll do anything to make the World Cup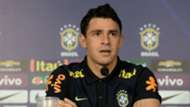 Brazil midfielder Giuliano said he is desperate to make coach Tite's final 23-man squad for next year's World Cup, admitting his recall this month came as a huge relief. 
The Fenerbahce man has earned five caps under the current boss but has twice been dropped from Brazil squads since Tite's arrival.
---
READ MORE: 
Coutinho to miss Japan clash | Brazil's World Cup hopefuls  | Last chance for Douglas Costa
---
And on Monday, after training at Stade Charterly in Paris ahead of Friday's clash with Japan in Lille, Giuliano expressed his delight at yet another return to the Selecao.
"It was a bad feeling not to be included," he admitted, "but on the other hand, it also served as a reminder to stay on my toes, not to get into any sort of comfort zone. 
"It was a motivation, which served to make me work harder and dedicate myself even more. The work I do at my club will now be vital to keeping up my [form]."
Giuliano worked under Tite with great success at Internacional a decade ago and was handed his first call-up in four years when Tite named his first Brazil squad.
"Brasil Global Tour November 2017" Paris - Day Onehttps://t.co/iKPa6DUK5t

— Brasil Global Tour (@BGT_ENG) November 6, 2017
With Tite having settled on his first-team, Giuliano is now among those fighting to cement his role as a regular reserve, but competition is fierce.
"There are great players fighting for these positions and everyone wants to participate. We are all privileged to be part of this moment and we have to give it everything we have," Giuliano said.
"Since we sealed qualification, our spirit was already focused on the World Cup and we began preparing with a greater responsibility. We are very well prepared now and we have demonstrated this in every game. 
"We have performed well and we have to go to the World Cup with the same spirit, making sure we use these last games to grow in confidence and solidify as a group."
Brazil meet Japan in Lille on Friday before heading to London to face England at Wembley Stadium on Tuesday.