England
Germany 1 England 5: Ten brilliant memories from a famous night in Munich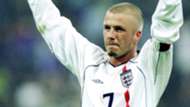 Sixteen years on, England's incredible 5-1 win over Germany still seems something of an anomaly.
Sure, the Three Lions defeated their old rivals just last year and staged a remarkable comeback from 2-0 down to do so, but that was a friendly with no real prize at stake.
England 250/1 to beat Germany 5-1 again
The clash in 2001 may not have been at a finals and German fans will, rightly, point to the 2010 World Cup, Euro '96 and Italia '90 as evidence of their recent supremacy.
But it still mattered, sending England straight to the World Cup as winners of their group - and because we've had precious little to celebrate since, we love looking back on it.
Ahead of the latest meeting between the two rivals on Friday, here are 10 memories we still treasure.
1. Michael Owen was dynamite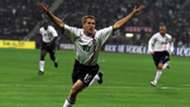 It's easy to hate on Owen's sometimes bland punditry nowadays, but in his pomp he was as exciting a player as this country has produced in most of our lifetimes.
This was his greatest night in an England shirt. The Liverpool striker's stunning hat-trick left Bundesliga veterans Jens Nowotny, Thomas Linke and Christian Worns reeling at the back.
2. Even Emile Heskey scored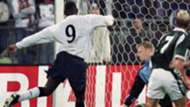 For years Heskey was asked to do all the dirty work up front for England, winning headers, holding up the ball and bringing others into play.
And what did he get in return? Constant criticism and mockery for his lack of elegance on the ball and shortage of goals.
But on this night, even he had his moment in the sun. Heskey looked like Ronaldo - nearly - when he rushed through to meet a Paul Scholes pass, taking one touch before slotting coolly past Oliver Kahn.
3. Steven Gerrard's half-volley...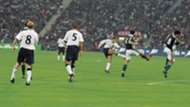 Pick. That. Out. Not for the first or last time in his career, Gerrard forced his team-mates to believe they could win the game.
4. Sebastian Deisler missed a sitter
At 1-1, Deisler received a square pass all alone in the penalty area and somehow sent the ball back where it had came from and wide of the near post. He had also pointlessly barged Owen over to concede the free-kick that led to England's first goal.
Owen, Gerrard and Heskey may have been the heroes, but the Three Lions had Deisler to thank for helping them on their way.
5. The 4-4-2 actually worked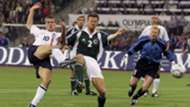 A big man-little man strike partnership and Gerrard and Scholes paired in central midfield, and somehow it came off!
England boss Gareth Southgate, who was on the bench that night, must look back on the Neville-Ferdinand-Campbell-Cole back four with envy.
6. Oliver Kahn was dreadful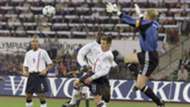 Kahn was a brilliant goalkeeper - he was named the best player at the World Cup a year later - as long as he was allowed to stay in his six-yard box.
Outside of it he was not exactly Manuel Neuer, though, and England seemed to know it, regularly aiming their crosses and balls into the box at the penalty spot. Kudos, Sven.
7. David Beckham was heroic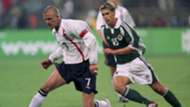 A week earlier, Beckham had limped off after a Manchester United game with a groin injury and it was not certain he would feature at all in this match.
He started despite the problem and was priceless, with his tireless running and recovery of loose balls contributing to two England goals.
8. Man Utd and Liverpool were united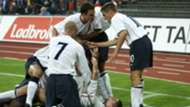 Gary Neville hates Scousers, or so the song goes - but not on this night. The sight of him celebrating manically with Owen was evidence that there is hope that even the worst of enemies can be united.
9. A few songs were written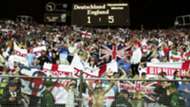 And not just in the stands.
There was 'England 5 Germany 1' by The Business and "Sven Sven Sven' by Bell & Spurling, not to mention Ant & Dec's 'We're On The Ball' for the World Cup finals.
10. The scoreboard was beautiful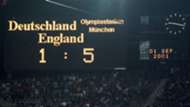 Just look at it.