Milan
Gattuso: AC Milan aren't going to Arsenal for a holiday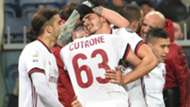 Gennaro Gattuso insists AC Milan can still progress in the Europa League, despite a 2-0 defeat to Arsenal in the first leg of their Round of 16 clash.
Goals from Henrikh Mkhitaryan and Aaron Ramsey in the San Siro mean Milan will have to score at least twice in north London when they visit the Emirates.
The result was Milan's first loss of the year, and they bounced back in dramatic fashion in Serie A, beating Genoa 1-0 on Sunday thanks to an injury-time Andre Silva goal.
In the aftermath of the game, Gattuso expressed his pride at his side's reaction, and insists they are not heading to London on a sightseeing trip.
"After Thursday, I heard a lot of nattering that you hear in the pub, about how we were lacking something physically, yet here we are coping right through to the 95th minute," Gattuso told Mediaset.
"We just got that game wrong against a strong Arsenal side. We realised that and today we responded.
"We've still got a 30 percent chance of going through and we're not going to London for a holiday. We need to respect our glorious shirts.
"The league table is finally looking pretty for us. Our objective is there in front of us, but we've got to take things game by game.
"I was a bit worried because we'd not lost in two-and-a-half months until Arsenal so we were afraid we might struggle after going so long without losing, but the team responded well."
Arsenal beat Watford 3-0 in the Premier League on Sunday, ending a run of three consecutive Premier League defeats.