Liga MX
Former USMNT defender Orozco happy with life at Lobos BUAP after resurgence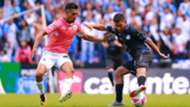 Watching Michael Orozco's most famous goal feels like being sucked into some sort of soccer time machine.
It was six years ago, but it was a different time. The United States national team was on the way to actually qualifying for the World Cup. Brek Shea and Terrence Boyd were involved in the buildup – just two of a number of up-and-comers in that generation who never came up enough. 
That moment, scoring the winning goal at the Estadio Azteca, is something Orozco will never forget, not that anyone would let him.  
"The video, even my kids have it on the iPad," Orozco said with a laugh during a conversation with Goal last week.  
"I came into that camp with just one goal: To make a difference. Thankfully, it happened for me in that 15 or 20 minutes when I got in and played defense, scored the goal. 
"Getting the first victory for the United States on Mexican soil in the Azteca, which is a stadium that has so much history, I think it was something beautiful, not just for me but for my family. I'm really proud to be part of that moment in history and when I'm at home in Anaheim, California, they remind me of that." 
His finish was improbable even at the time, with U.S. supporters expressing shock that it was Orozco who delivered the Stars and Stripes' first triumph in the Estadio Azteca. A fan's reaction on a post-match call-in show – "Michael Orozco Fiscal?!" – became a drop on a popular soccer podcast.  
While that moment still sticks out as the one he's most known for, it was hardly his only contribution during the Jurgen Klinsmann era. He scored in Panama City to help the U.S. to a 3-2 win in World Cup qualification, and while he didn't make the roster for Brazil he was back in the starting XI in 2016's Copa America Centenario.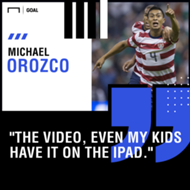 His last appearance in a U.S. shirt was a bench role in the 4-0 defeat to Costa Rica in 2016 – the final match before Klinsmann was given his marching orders during an ill-fated qualification campaign. He hasn't been called since, and at age 32 knows another opportunity might not come. 
Yet, Orozco quietly put together a strong season off the radar of U.S. and even most Liga MX fans, helping Lobos BUAP bounce back from a poor showing in the previous tournament.  
In the Clausura, Lobos should have been relegated but paid a fee to stay in the top division. Orozco arrived on loan from Tijuana in the summer, and several other players were brought in to improve the club. Things still got off to a rough start this season, with Lobos winning just one of its first nine games in the Apertura.  
But manager Paco Palencia engineered a turnaround, with Lobos losing just once in their last eight matches – that defeat coming to regular-season leader Cruz Azul. 
Orozco was a big part of the turnaround, playing center back next to a fellow defensive veteran, Maza Rodriguez. He knows it's time for a new generation of players to emerge for the U.S. national team, but says he'd be thrilled to lend the leadership skills he's learned at Lobos to the U.S. if the new manager were to give him a chance.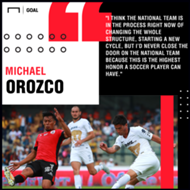 "Right now, I'm focused on what I can do here with Lobos, helping to save the team from relegation. My showings on the field speak for themselves," he said. "I think the national team is in the process right now of changing the whole structure, starting a new cycle, but I'd never close the door on the national team because this is the highest honor a soccer player can have – to one day get there and represent your country with honor. 
"So, if a call comes, I'll be there and help however I can help, whether it be motivating or giving my experience or if I'm going to play as well, it'd be a pleasure, a happy moment to be there once again. Not going to the World Cup has left a lot of players 'marked', but I think we can overcome that with work." 
Relegation is still a real worry for Lobos, even if the team stayed in the first division via unconventional means last time around.  
Lobos sit in the penultimate place of the league's relegation table above only Veracruz. Lobos will look to get as many points as possible in the Clausura to get an advantage in Mexico's system, which sends down the team that has the worst combined record over six short tournaments. 
Orozco said he has six-months left with Lobos on a year-long loan from Tijuana. But the former Club Puebla player is happy to be back at a city where he spent many years and said he hopes to continue with Lobos – or perhaps even sign a deal to get back in MLS, where he spent 2010 on loan with the Philadelphia Union.  
"I'd love to, first, save the team with my teammates, possibly re-sign which would be ideal for me and my family," he said. "Having kids and having to adapt and figure out a new city is difficult. But, look, I'm also not ruling out going to MLS one day, which is something really great and I enjoyed the experience I had in 2010. It was perfect. 
"Right now, I'm taking on everything calmly. I've got six months left. I'm going to give everything for the team to stay up and if we stay there's the potential plus of getting to the Liguilla and moving forward. But first of all we have to save the team."