Mexico
Five things we learned from Mexico's win against Iceland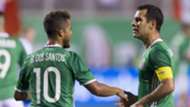 LAS VEGAS — Now time for the good stuff.
Mexico's next game, a World Cup qualifying contest against Costa Rica, is magnitudes more important than Wednesday's friendly, and fans of the Mexico national team now have that game in their sights. 
Like many of the "moleros" Mexico plays in the United States, this week's 1-0 win over Iceland won't go down in the history books as any sort of turning point or unforgettable match. But Juan Carlos Osorio will be happy enough with what he learned about his team.
Let's take a look at five lessons we learned from Wednesday's friendly... 
---
PLAYERS UNDERSTAND NEW FORMATION
---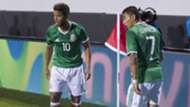 There have been times in his Mexico tenure when Juan Carlos Osorio the tactician supersedes Juan Carlos Osorio the manager. In a few matches, the Colombian has tried something out with his team that didn't really come off. Players didn't seem to understand their roles or what they were being asked to do. 
Wednesday could've been one of those times. With Osorio preparing for games against teams like Costa Rica and Honduras that may call for him to utilize a formation with wingbacks. Osorio lined up his team in a 3-4-3, something nobody on the field sees at club level, but one that most players found comfort in.
The manager came away with the impression that it's a formation he could return to if necessary.
"They achieved our top goals, first, to give the chance to players that we think can play as wingbacks while using a three-man defense," he said after the match. "We think that Jesus Gallardo and Luis Reyes on the left and Jurgen Damm and Raul Lopez on the right did their jobs."
The team knew that its job was to do as much as possible to get width on the narrow field in Las Vegas, attacking down one side and then switching the field to take advantage of the space. That message was communicated effectively, with the players understanding their roles from the first minute.
---
PULIDO SHOWS NEEDED ABILITY
---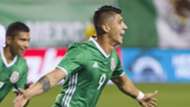 Mexico was wasteful in front of goal Wednesday. The team had multiple chances, and Osorio said after the game that his side should've won by two or three more goals than the one-goal advantage it ended the night with. Even that might be charitable. El Tri had control of the match for all 90 minutes.
The goal came from Alan Pulido, who scored for the national team for the first time since a spring 2014 friendly against the United States. And with Mexico probably needing a minimum of five forwards this summer, between the Confederations Cup and the Gold Cup, seeing the Chivas striker's powerful header had to bring a smile to his manager's face. Pulido will be at one of the summer tournaments. There aren't enough options otherwise.
"The truth is that I was out of the national team for two years, and either of those tournaments would be good for my career," Pulido said after the match.
The 25-year-old might be the ideal candidate to lead the line for Mexico's Gold Cup team. He's not going to get past Javier "Chicharito" Hernandez for minutes in Russia at the Confederations Cup and doesn't have the same speed or versatility as many of his compatriots on the wings. Barring a surge with Chivas, Pulido might be back in the Untied States soon, and his winning goal will help advance the idea that he could be one of Mexico's biggest scoring threats in the Gold Cup.
---
LOZANO EXCELS ON LEFT
---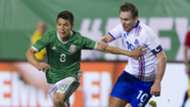 Hirving Lozano was one of several Mexican players who missed golden opportunities to score for Mexico, but Osorio made it clear that he wasn't going to hold a miss against the Pachuca winger. The 21-year-old Lozano solidified his ability to play tucked in on the left - a bit more of an interior position than he plays with Tuzos but on the same side where he usually lines up for Diego Alonso. 
Lozano got into the box with ease, finding scoring opportunities, and combined well with Gallardo when the wingback overlapped him. When Lozano moved forward to play in the forward position, though, his lack of familiarity with the job showed.
The times when he would need to play up top for the national team in a competitive match are few and far between, so that's not much of an issue. He's clearly more comfortable wide, cutting in from the left where he's used to being every weekend.
The 2016 Olympics were a disappointment, but Lozano has looked good in Mexico's last several friendly matches. With a summer move to Europe expected, his showings in Russia could determine exactly where he ends up - and just how much money Pachuca will be able to get from the sale of the young midfielder.
---
YOUNG FULLBACKS COULD EARN RECALLS
---
Osorio called very few true fullbacks into the team and didn't even use Jorge Torres Nilo against Iceland. This game, for the coaching staff, was about finding players who could play at wingback, but two players who were able to fill those roles could also find themselves back in the national team playing in a back four.
Atlas left back Luis "Ricky" Reyes earned his first national team cap, coming on in the second half as the left wingback, and Raul "Dedos" Lopez saw his first action in more than a year as a right wingback. Mexico is not deep at the outside back position, and Osorio likes to use one of his best players there, Porto left back Miguel Layun, in other roles when he's able to do so. Those spots may be the only two on the team where there seems to be a vacancy for a young player to vault into the top group. 
"I'm thankful to God, to my family, to the coach for having given me this opportunity, and I'm thankful," Reyes said. "It was a dream that I've been looking to fulfill since I was a kid and I knew I had to do well. I'm satisfied with the debut, but I know that I have to keep working to earn more calls."
Pumas left winger Gallardo, who already had been part of an Osorio experiment playing in defense, also drew praise from the manager for his quality first half on the left side of the attack. Gallardo continues to build on strong club form and, like Reyes and Lopez, looks prime for a recall, perhaps even before the Gold Cup squad comes together.
---
DEFENSE WITH PLENTY OF TIME, LITTLE TO DO
---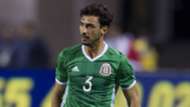 Mexico's three center backs - Oswaldo Alanis, Rafa Marquez and Nestor Araujo - got to show off their passing skills Wednesday, either playing balls across the field to wingers wide open on the other side or playing all the way forward to attackers making runs forward.
Yet, one must be skeptical about whether the trio could replicate the same type of passes were they under any sort of pressure. The back line was rarely threatened by Iceland and had all the time in the world to line up their long balls. All three players have skills with the ball at their feet, otherwise Osorio wouldn't lean on them as much as he had in the past and likely will continue to do in the future.
While PSV center back Hector Moreno is clearly the class of Mexico's center-back crop, Araujo has shown positive things with the national team, and Osorio would love for Alanis to return to the form he showed before a pair of injuries set him back. The Chivas defender could be a quality option to play left center back if Moreno is injured or otherwise unavailable. Like his fellow defenders, though, it's tough to judge based on the friendly showing.