WTF
FIFA 18 player ratings: EA Sports unveil players ranked 60-41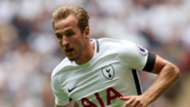 EA Sports' countdown of the best 100 players on FIFA 18 has continued with the unveiling of the stars ranked 60-41 on Thursday.
After releasing the list of players ranked 80-61 on Wednesday, the likes of Harry Kane and Andres Iniesta - rated 86 and 87 overall respectively - feature in the latest group.
Isco, Romelu Lukaku and Marek Hamsik are among the players to claim increases to their overall ratings to rise up the rankings.
EA is expected to continue to release the top 100 in the coming days, leading up to the unveiling of the game's best player.
You can check out the complete list of players to have featured on the list so far on our dedicated page.
Below is the full rundown of the players ranked between 60-41 and their stats as they will be seen on Ultimate Team when FIFA 18 hits the shelves on September 29.
---
60. DAVID LUIZ | Chelsea
---
On the back of a superb title-winning season with Chelsea, David Luiz sees his overall rating boosted two points from 84 to 86.
---
59. SERGIO BUSQUETS | Barcelona
---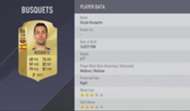 After a disappointing 2016-17 campaign for Barcelona, Busquets takes a one-point hit to his overall rating compared to FIFA 17.
---
---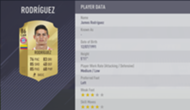 James will hope to get his career back on track at Bayern Munich and the fact he fell out of favour at Real Madrid is reflected in a one-point drop to his overall rating.
---
57. TOBY ALDERWEIRELD | Tottenham
---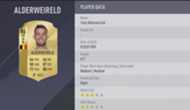 Alderweireld has established himself as one of the top defenders in the Premier League and receives a boost from 85 overall to 86.
---
56. KARIM BENZEMA | Real Madrid
---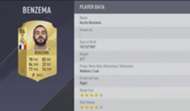 Benzema will turn 30 in December and takes a one-point decrease to his overall rating, with his pace suffering the most noticeable hit (three points).
---
55. CESC FABREGAS | Chelsea
---
He may not always be a starter, but Fabregas played an important role in Chelsea's title triumph and his 86 rating is unchanged.
---
54. ISCO | Real Madrid
---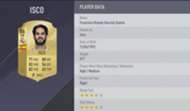 Isco climbs from 84 to 86 overall after a brilliant end of the 2016-17 campaign. The way he's going at the minute, he could rise further very soon.
---
53. HARRY KANE | Tottenham
---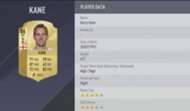 Kane enjoyed a one-point boost in the FIFA 17 ratings refresh and gets another for FIFA 18 to take him up to 86 overall.
---
52. ALEX SANDRO | Juventus
---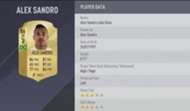 Alex Sandro nearly left Juventus this summer in a big-money move and his rise is reflected in a two-point increase to his overall rating.
---
51. PHILIPPE COUTINHO | Liverpool
---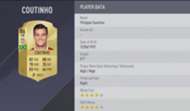 Barca were willing to pay huge money for Coutinho but that has not persuaded EA to push his FIFA 17 rating of 86 overall up any further.
---
50. RADJA NAINGGOLAN | Roma
---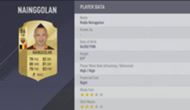 Nainggolan boasts excellent stats across the board and another point added to his overall rating on FIFA 18, taking him up to 86 overall.
---
49. DRIES MERTENS | Napoli
---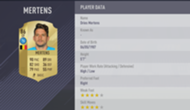 A brilliant season in front of goal for Mertens saw him boosted from 83 to 85 on FIFA 17, and now he has received another kick to take him to 86.
---
---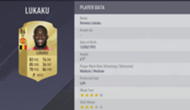 New Manchester United striker Lukaku is up two points from 84 to 86 overall after a fine final season for Everton before his big-money transfer.
---
47. THOMAS MULLER | Bayern Munich
---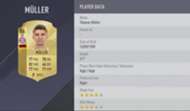 Not everything has been rosy for Muller under Carlo Ancelotti, and he suffers a one-point decrease to his overall rating.
---
46. SAMIR HANDANOVIC | Inter
---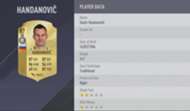 Inter stopper Handanovic preserves his status as one of the best goalkeepers in the game by retaining his 87 overall rating.
---
45. ANDRES INIESTA | Barcelona
---
Barcelona's midfield maestro Iniesta is down one point from his 88 rating on FIFA 17 as he begins to show the first signs of age.
---
44. IVAN RAKITIC | Barcelona
---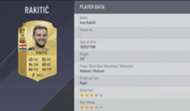 His third season at Barca was not as good as his first two but Rakitic nevertheless keeps his 87 overall rating.
---
---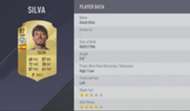 Manchester City talisman Silva is unchanged at 87 overall and gets increases in his defending and physical ratings having adapted well to a central-midfield role.
---
42. GERARD PIQUE | Barcelona
---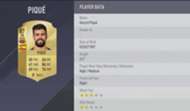 Barca centre-back Pique was boosted up from 86 overall to 87 on FIFA 17 and keeps that rating for this year's game.
---
41. MAREK HAMSIK | Napoli
---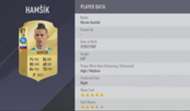 Just missing out on the top 40, Hamsik's brilliant performances for Napoli see him boosted two points from 85 to 87 overall. He also has a perfect 'weak foot' score.
EA SPORTS is revealing all players' ratings ahead of the release of FIFA 18 on the September 29. To pre-order your copy, head to: https://www.easports.com/uk/fifa/buy/united-kingdom