Mexico
Ferretti defends decision not to call up Mexico regulars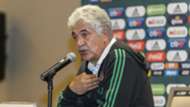 Mexico interim manager Ricardo "Tuca" Ferretti said Wednesday that he is the only one responsible for choosing the Mexico squad and has put the list together with an eye on the future.
Many of Mexico's regulars from the previous World Cup cycle have been left out of Ferretti's squad, both in September when El Tri lost friendly matches to Uruguay and the United States, and October with the team set to meet Costa Rica on Thursday and Chile next week.
Rumors circulated this week that players like Andres Guardado, Miguel Layun and Javier "Chicharito" Hernandez were being left off the call-ups not to give younger players opportunities but rather because they spoke in support of the nascent Liga MX players' association. Liga MX club owners have input on decisions made by the Mexican federation, but Tigres manager Ferretti denied that played a role in his selections.
"I've taken the decision not to call them. It's my right. I take the responsibility for the lift, but I don't want to say that they can't be on it in the future," Ferretti said. "Every Mexican player can be chosen, and right now although someone might not be in the squad doesn't say that they'll never be in it. Right now, I've thought that we must observe other players. It's very clear, you have to see those elements for the 2022 and 2026 World Cups."
Of this current roster filled with youth, Ferretti said he's sure 70-80 percent will be part of the next World Cup roster.
Leaving the veterans out may be a moot point at the moment. Guardado suffered a hamstring injury with Real Betis, Layun is working to win a regular place in the Villarreal squad and Hernandez has missed the last month with an infection. Ferretti is expected to coach the team during one more window, when Mexico heads to Argentina for a pair of friendly matches, and then yield the position to another boss who will have his own relationship with the federation.
As to who that boss will be, Ferretti said he's staying out of it. The 64-year-old was believed to be one of the candidates for the role but was asked by club directors at Tigres to see out the remainder of his three-year contract rather than taking on the national team gig.
Currently, Atlanta United manager Gerardo "Tata" Martino and Iran manager Carlos Queiroz are the two coaches who have been most frequently linked with the job, but Ferretti said he's not the person to ask about who he'll hand the reins off to.
"I don't know if it's those two guys or if there are more. Honestly, I don't think I should give my opinion about those two managers. There are people in charge of looking for a manager for the national team," he said. "They're taking their time, the time they need. There's no hurry, and naturally when they make the decision they'll make the best one after analyzing all the aspects they want from a manager of the Mexican national team."
Ferretti took the somewhat unconventional step of releasing his Europe-based players who played in the first of two friendlies last month back to their clubs despite Jimenez, among others, attempting to stay around and joining the team in Nashville to train ahead of the second match. The coach is set to do the same to keep the Europe-based players fresh for their clubs and give a chance to the domestic-based players he has brought in.
"To bring together this group of players and not give them the chance to play wouldn't be appropriate. I'm thinking of giving minutes to everyone," he said. "I have two matches, and I'm able to think about one group for the first game, and another for the second although I still haven't defined (those groups)."