Premier League
Ferdinand urges FA to put aside issue of skin colour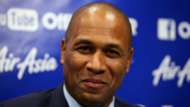 Queens Park Rangers coach Les Ferdinand says the English FA still has not put aside the stigma of skin colour, saying it hinders the progression of coaches from certain ethnic backgrounds.
Chelsea and Conte will struggle in the Champions League 
The ex-Tottenham, Newcastle and QPR striker spoke out against English football's governing body following the motion of no confidence from Members of Parliament on Thursday.
It is a move that could see £30 million of funding cut if the board and council is not overhauled by April, with concerns the aging holders of key positions lack the strength of will to balance the power of the Premier League.
And Ferdinand has backed the call for reform, stating the FA must be more forward thinking in allowing coaches of all ethnic backgrounds to progress.
"If you look through the English set-up and you look through all the coaches, you look through the positions that could be held by an ethnic minority, there's not many in any of the most important positions held by one," Ferdinand told ITV.
The former England international also spoke of the need to appoint an individual based on merit and not skin colour in order to preserve the integrity of the position.
"You don't want anyone in a position for tokenism, you want them to be selected for a job because they've got the capabilities to do the job," he continued when asked about possibly becoming the first black head of the FA.
"Unfortunately at the moment ethnic minorities are being overlooked for such positions in organisations like the FA.
"It shouldn't be about colour, race or gender. It should be about who is the best person for the job."