Premier League
Fantasy Football: Gabriel Jesus offering unbeatable value fast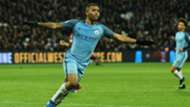 Gabriel Jesus has been an absolute revelation since showing up in Manchester.
The reason that couldn't be phrased as "joined Manchester City", or something similar, is that he actually signed last summer but was loaned back to his previous club: Palmeiras. This series of events opened up an interesting and fantasy relevant loophole in which Jesus was added to the Goal game in the summer and continued to drop in price until his first appearance for Manchester City.
So, now that he's officially in the Premier League, let's look at his fantasy potential.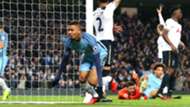 Download Goal Fantasy Football on iOS or Android now and win great prizes every week!
As a player, Jesus is pacey, can create his own chances, and has a keen eye for goal. These attributes have already been on display as he has scored three goals and assisted another in just two starts. While this is an incredibly small sample size, the fact that his 50 per cent shot accuracy falls in line with his career average shows that this kind of return may well be sustainable.
Manchester City have not been at the level of years past but are still just three goals off being the best attack in the Premier League this season. The trio of Jesus, Leroy Sane, and Raheem Sterling can break at pace better than just about anyone which means they have a terrific chance of scoring in any match, regardless of opposition. Fortunately, the next three matches are kind anyway as they will consecutively face three of the bottom ten defences.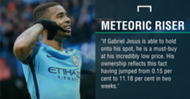 Thus far he sounds like the perfect fantasy option, so what's the downside? The elephant in the room for the Brazilian is playing time. Remember in December, when Sergio Aguero was suspended and Kelechi Iheanacho was the obvious choice to replace him? Well manager Pep Guardiola did the reasonable thing and played him just 98 minutes over those four matches.
Now, Jesus is obviously more talented than Iheanacho and has started two consecutive matches of a possible three, but it's important to keep in mind that Guardiola has shown a blatant disregard for fantasy managers this season.
If Gabriel Jesus is able to hold onto his starting spot he is automatically a must-buy. His ownership reflects this fact having jumped from 0.15 per cent to 11.18 per cent in just two weeks. However, with his incredibly low price (5.8) and all the other factors mentioned above, Jesus is definitely one of the best fantasy values right now and, arguably one of the best ever.