World Cup
FAI in favour of expanded World Cup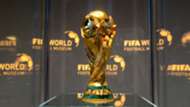 The Football Association of Ireland (FAI) would be supportive of the expansion of the World Cup to 48 teams, according to the association's Chief Executive John Delaney.
On January 10, FIFA voted unanimously in favour of increasing the number of teams participating in the tournament from 32 to 48 in 2026 and Delaney revealed that the FAI would be in favour of the change.
Robbie Keane confirms interest from Championship clubs
"In theory, I and the FAI would be supportive of increasing the number of teams to 48," Delaney said. "But we have meetings with UEFA next Monday and Tuesday under the top executive programme to find out how that affects UEFA.
"At the moment 13 European countries get to the World Cup, so how many extra slots would that mean for UEFA?
"If I was being really frank with you, any opportunity that gives Ireland a greater opportunity to get to a World Cup, in theory or in principle, I would support."
Delaney was speaking at a meeting with the Irish government's Joint Committee on Transport, Tourism and Sport, involving the FAI, the Gaelic Athletic Association (GAA) and the Irish Rugby Football Union (IRFU).
The topic of the meeting was 'Sport in Ireland; Challenges, Strategies and Governance' and representatives from the three governing bodies were asked questions by politicians.
2017 League of Ireland Premier Division transfer updates
As well as the increase of teams at the World Cup, Delaney was questioned about the League of Ireland, including the recent decision to change in league structure to two 10-team divisions from 2018.
"You'll never get a unaminous view on what a structure should be," said Delaney.  "But we did this in a very independent way and we asked the clubs for their view; they voted in a majority to make it 10 and 10."
The full meeting can be viewed on the Houses of the Oireachtas Facebook page.