South Africa
EXTRA TIME: Twitter reacts to Stuart Baxter's fourth defeat in five Bafana qualifiers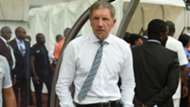 Baxter's played five World Cup qualifiers and from those he's lost four. That includes two defeats home and away to Cape Verde and Senegal. 
The only victory was against Burkina Faso at home. The South African public has been quick to point out his poor record but are left frustrated due to his long term contract with Safa.
Here's a collection of Tweets that sum up the mood in the country after Bafana Bafana finished last in their group.
Baxter must GO.

— Katlego Modiba (@KsModiba) November 15, 2017
Soon they'll be using serero to get rid of their fave Baxter

— #BuyBlack (@Gino_MSFC) November 14, 2017
Bafana have won just ONE of six 2018 World Cup qualifiers. Baxter lost four of those, with some of the worst performances I've seen from Bafana.

— Mazola J. Molefe (@superjourno) November 14, 2017
Baxter is consistent. In 2006 qualifying we lost four qualifiers under him. But that was out of 10 games. He's lost eight of 15 combined World Cup qualifiers

— Nkareng Matshe (@Nkareng) November 14, 2017
BAXTER: "My mandate was never about qualifying for the @fifaworldcup. I see that we are making progress. Need to be on the same page, @safa_net NEEDS TO BE SHARPER"

— Neal Collins (@nealcol) November 10, 2017
Senegal beat @BafanaBafana for the second time in 4 days. And Stuart Baxter believes his team are better than those going to the World Cup.
Abeg, wherever he's getting his supply, he needs to change his connect

— Colin NOT Collins (@ColinUdoh) November 14, 2017
Senegal beat @BafanaBafana for the second time in 4 days. And Stuart Baxter believes his team are better than those going to the World Cup.
Abeg, wherever he's getting his supply, he needs to change his connect

— Colin NOT Collins (@ColinUdoh) November 14, 2017
Andile Jali was one of the reasons we beat Burkina Faso but Baxter decides to put him on the bench.Yena aya kwini? #BafanaBafana #TrapaDrive pic.twitter.com/H3y0UOaxua

— Switz (@SwitzyBlack) November 10, 2017
Look at Robert  listening to Baxter's nonsense
Bafana bafana pic.twitter.com/wcrfC9FpST

— Le Cadeau (@LeCadeau_t) November 10, 2017
Bafana Bafana's consistent incompetency is not Baxter's fault.

What if I put it to you that it's Zuma's fault...  pic.twitter.com/nbA67sMEgk

— uNdlunkulu MaMbhele uNdlela kaSompisi (@xolisile_mbhele) November 10, 2017
Still trying to wrap my head around what this Stuart Baxter just said. He says his mandate was never about qualifying for the World Cup!! Seriously? Did we just go through an emotional rollercoaster for sweet nothing? What in the world!

— Mninawa Ntloko (@ntlokom) November 10, 2017
Wait for them to make excuses for Baxter and tell us he's the right man to take our football forward. pic.twitter.com/CILOhK197t

— Champ Champ Tshepo (@FootballTshepo) November 10, 2017
Stuart Baxter calls players all the way from overseas just to bench them.

- Keegan Dolly
- Dino Ndlovu
- Phakamani Mahlambi (Egypt)
- Andile Jali#BafanaBafana

— The KC Mathoma Show (@KCMathoma) November 10, 2017