Kaizer Chiefs
EXTRA TIME: Kaizer Chiefs fans react to Shabba linked to Turkey move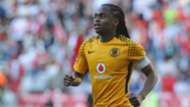 The Bafana Bafana and Kaizer Chiefs legend has stuck through with the club during good and bad times, even after starring in the 2010 Fifa World Cup and everyone expected him to be performing in European football.
At the age of 33 this could finally be a last shot for him to play in Europe, and that could be in the Turkish league.
Many Kaizer Chiefs fans are giving Shabba their blessings after all he has done for the club. With Lebogang Manyama and Khama Billiat coming in this season, the club probably won't miss Tshabalala too much. Do you agree?
Here's a compilation of reactions from Chiefs fans about Shabba's rumoured move to Turkey. No matter what they say, they're still hoping Shabba will stay home.
"Ronaldo is 33 and left Real Madrid for Juventus. So people must stop being jealous of Shabba."

Itsho I fan ye Chiefs bahlali. So, please......

— Lerato Mkhondo (@Lerato_Mkhondo) August 23, 2018
After 16 years at Naturena thank you Shabba for everything you done for Kaizer Chiefs. A legend, a gentleman and truly a great Good luck with your future endeavours, I'll miss you pic.twitter.com/RzM1rYfR2s

— Miss Kaizer Chiefs 2018  (@ndhile_dlamini) August 23, 2018
Funny that Kaizer Chiefs hasn't said anything about this Shabba move and yet there's pictures n tweets of Shabba in this new jersey.

— Nwabee (@NwabeeM) August 23, 2018
Shabba has served us with dignity, honour and excellence. He has been a true Kaizer Chiefs ambassador. pic.twitter.com/L3xiIYHKMs

— Dabane  (@Mkhu28) August 22, 2018
Shabba must retire at Chiefs 

— Garvey (@iAmKingducer) August 22, 2018
Some of my fellow Chiefs fans disrespected Shabba even though he was the guy who used to chip in when things were going South. Always dedicated but still he was "Nyawana", "One leg(ged) etc" Today they singing his praises. Some of us never forget.

— Msangula, Dlukula, Mahlobo, Malandela. (@MathewsNtanzi) August 23, 2018
uShabba akayindawo. Some lunatic tried to set him up by photoshopping his face to this picture. This picture was posted on Erzurumspor's Twitter handle on August 9.
The mere fact that Shabba was training with Chiefs today was a clear indication that such news is FALSE! pic.twitter.com/wUJYs4uowS

— Hunter (@JLMokwena) August 23, 2018
Shabba served Kaizer Chiefs really well, he is one of the best they ever had. Salute 

— Thobile Qegwana (@ThobzaQ) August 23, 2018
Some Chiefs fans don't want Shabba to taste playing in Europe after having served us with distinction. Read tweets about wanting him to help youngsters from the bench 

— Miya Gcwanini (@Sparks_MUFC) August 23, 2018
I would like to send my warm appreciation to King Shabba he had a good run at kaizer chiefs . Simphiwe Tshabalala is a kaizer chiefs icon even my autocorrect recognize him best of luck for him at turkey . pic.twitter.com/mAYJhXstVR

— BAREND ROTHSCHILD (@barend_g) August 22, 2018