Euro 2016
Evra: With Benzema, France can win Euro 2016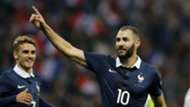 Patrice Evra believes that if France are to win Euro 2016, they will need Karim Benzema to be at his peak.

The Real Madrid striker scored in both matches as Les Bleus defeated Armenia and Denmark in back-to-back internationals this week, having come in for criticism previously due to his comparatively poor scoring rate for the national team.

Far from being a hindrance, Evra believes the ex-Lyon attacker has the potential to lead France to European Championship glory next summer.

"For me, Karim's a great striker," he told RMC. "I'm not the coach, but I think in Didier Deschamps' eyes he's the No.1. 

"He must assume his status. He was whistled in Nice against Armenia but scored two goals in the end. He has to ignore the critics – he can't make everyone happy. 

"I've told him to keep working. He knows that we will do all we can to make him shine."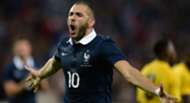 Indeed, Evra believes that even without a "technical leader" like Zinedine Zidane, who helped the national side to success in World Cup 1998 on home soil and Euro 2000, they can still be a success next summer.
"I don't think one is essential," he said. "We could even discover someone at the competition. But I think players like Benzema have a big responsibility. With him we can win the competition."
The ex-
Manchester United
defender was also impressed with Anthony Martial's contribution against Denmark on his first start for France.
"It's the first time I've seen him in a match," he confessed. "He was impressive. I told him at the end of the game: 'I hope that you hydrate well and stretch well. Keep accelerating like that.'
"Every time he touched the ball, he drove and he created something."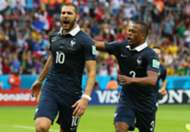 Despite the emergence of the youngster, Evra admitted he continues to miss Franck Ribery in the national side, with the
Bayern Munich
man having quit the scene.
"Of course I'd recall him," he said. "We exchange text messages. He's a player I miss on a daily basis. If Franck wants to come back, personally I'd welcome him back with open arms. But I'm not the coach.
"I want to see everyone trying their hardest, and to play with a spirit that will help us win."
Meanwhile, Evra is not concerned about his status as press scapegoat.
"It doesn't bother me. I prefer to take the bullets for everyone," he said.
"Critics won't me stop my career. That's what I said after the World Cup: 'All of you go on holiday, I'll be the only one who takes the guillotine.'
"No worries. I'm healthy and my family is doing well. There are no problem."