Ligue 1
Draxler: I've never seen someone at Mbappe's level at such a young age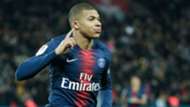 Julian Draxler said he's never seen a player as good at such a young age as his PSG team-mate Kylian Mbappe. 
Mbappe is about to complete a remarkable 2018 that has seen him lift a World Cup and finish fourth in the Ballon d'Or voting, all before he even turns 20 later this month. 
The teenage sensation helped PSG to a domestic treble in 2017-18 and has started the new season in strong form again, having netted 14 goals in 16 appearances in all competitions. 
When asked what Mbappe could improve upon to win the Ballon d'Or in 2019, Draxler struggled to name a weakness in his team-mate's game.
"It's hard to say, he's already a world-class player," Draxler told Goal.
"But he's now 19 or 20 years old so to win the Ballon d'Or he needs some more experience, but he's still so young.
"If he continues like this he will win it one day. I'm sure. Because I've never seen a player of his age who played as good as he is currently playing."
The presence of Mbappe, along with high-profile stars like Angel Di Maria, Edinson Cavani and Neymar has meant Draxler is not an automatic starter at PSG the way he would be at so many other sides. 
Draxler admits that he's had to take a backseat at times to his illustrious team-mates, especially the talismanic Neymar. 
"We know that Neymar has great skills, he's a great player so we try to find him everywhere on the pitch," Draxler said. 
"If he plays on the left side we try to find him on the left side, if he plays as number 10 we try to find him at the centre. He doesn't really care in which position he plays, he tries to be everywhere on the pitch.
"For us it's not a big difference but of course if you have a player like him you have to give him the ball. That's also kind of my role at the moment.
"I try to defend well with (Adrien) Rabiot, Marquinhos or (Marco) Verratti. It doesn't matter, if we have the ball we try to find Neymar and Mbappe because they are very dangerous and they can score out of nothing."
Neymar was once considered the heir apparent to Lionel Messi and Cristiano Ronaldo in the race to be considered the world's top player but Mbappe has stolen his thunder somewhat, with the Brazilian finishing a distant 11th in the 2018 Ballon d'Or voting.
Draxler wouldn't be drawn on which of the pair will win the Ballon d'Or first, but did tip both to lift the prize in the future. 
"I don't know, I don't know. You know, it depends on the form, what kind of season you played, which team you play [for]," the 25-year-old said.
"Sometimes it's also a bit of luck that you need but what I can say is the two are amazing players and they both deserve the Ballon d'Or one day."