Real Madrid
De Gea? Courtois? Real Madrid only thinking of Keylor Navas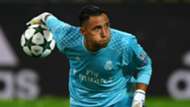 ---
ANALYSIS
---
Time to reflect again for Real Madrid. After more than eight months without defeat, Los Blancos were finally beaten at Sevilla on Sunday and immediately the inquest began - with question marks over the form of goalkeeper Keylor Navas following his poor positioning in the Andalusians' late winner at the Sanchez Pizjuan.
In the pre-match press conference ahead of his side's Copa del Rey clash at home to Celta Vigo, coach Zinedine Zidane was asked about the Costa Rican and said: "We went unbeaten for 40 games and he was our goalkeeper. He was there all along."
Nevertheless, the debate rumbles on after reports in England linked Chelsea goalkeeper Thibaut Courtois with a possible summer switch to the Santiago Bernabeu, while the club's interest in Manchester United shot-stopper David De Gea is long-standing.
Late Sevilla comeback ends Madrid run
Madrid have reduced their transfer ban to one window and will be able to sign new players again in the summer. Despite that option and the fact that Madrid were ready to bring in Gea to replace Navas back in 2015, however, the club are now very happy with the 30-year-old former Levante man.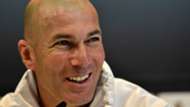 "Navas looks really good to me," Zidane said on Tuesday. "We can always ask more from all of the players, but up until now he has been the goalkeeper with whom we went 40 games without losing. That was for a reason. He was part of our streak."
Zidane backs Navas and Benzema
And he added: "Kiko [Casilla] and Ruben [Yanez] are in good shape. There's nothing to say. These are rumours. We are concentrated on our job, on this year. Next year doesn't interest me, it's not the moment. I'm really happy with my three goalkeepers and I don't want to change anything that we're doing."
Crystal clear. And Zidane is one of the reasons Navas is so highly regarded at the Santiago Bernabeu. The Frenchman is a big admirer of the Central American and was quick to rule out a possible move to the Premier League for the Costa Rican last summer.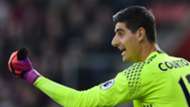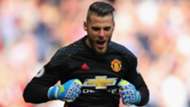 He was the goalkeeper that helped him win the Champions League, with a great second half to the season. And he was also the face of the trio of goalkeepers that, according to Zidane, are working to perfection. In terms of dedication, effort, team work and solidarity - which is not always the case when there is rivalry for a first-team place.
Navas also enjoys a high standing with his team-mates. Popular from day one at Valdebebas due to his commitment and hard work, he has an excellent relationship with several of the players, including captain Sergio Ramos, that despite the fact that the Spain defender was a great friend of former number one Iker Casillas. Indeed, Navas is one of the most-loved members of the squad and his colleagues see him very much as Real Madrid's goalkeeper. There is no debate among the players.
Ronaldo in Madrid squad for Celta clash
After a year in the shadows with Casillas still at the club, Keylor was on the verge of leaving the club in the ultimately unsuccessful operation to bring in De Gea. The Costa Rican revealed he had cried in impotence at that treatment, but said he was grateful for the chance to show he could be Madrid's number one.
His immediate response impressed the club and even though he has not been at his best since an injury earlier this term, Zidane has no plans to sign another goalkeeper and even if he did, it is unclear whether either of the candidates would be an upgrade, anyway.