Michy Batshuayi
Who is Chelsea's new €40m striker Michy Batshuayi?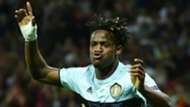 ---

PROFILE
---
Throughout the Euro 2016 group stage, a frustrated Michy Batshuayi was forced to watch on as he was overlooked by Belgium coach Marc Wilmots.
The Red Devils progressed to the last 16 of the competition despite performing indifferently in their opening match against Italy. That defeat sparked a backlash - the Republic of Ireland were brushed aside before Sweden were seen off - but the side rated as the second best in the world by FIFA did not really make their mark until the first knockout round.
Hungary had come close to eliminating Cristiano Ronaldo's Portugal in the pools, but Belgium flexed their offensive muscle and recorded one of the tournament's most emphatic victories. The 4-0 win was orchestrated by the brilliance of Eden Hazard but also punctuated by Batshuayi's first minutes on the pitch – and the SpongeBob SquarePants fan made them count.
The 22-year-old's goal - a simple finish with virtually his first touch - was the first of a late flurry that sealed Belgium's path through to the quarter-finals, before they were eliminated by Wales in the next stage. However, the aforementioned goal It was the moment he had been waiting for.
"I was like a dog that was let out of his cage," the Marseille star confessed. "I had a great desire to finally play in my first big tournament. I can't hide my impatience sometimes. But I always stay positive and work hard in training. Today, the coach repaid me for my work. 
"I don't know how long I was on the field for before I scored, but I know it happened very, very quickly. It was an immense joy."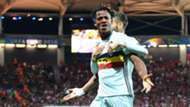 It was the sort of goalscoring instinct that has convinced Chelsea to sign the forward - a deal which was confirmed on Sunday afternoon.
Coming from Marseille, he will inevitably arrive at Stamford Bridge as 'the new Didier Drogba' but the comparison with the catalyst for the Blues' Champions League success in 2012 does him a disservice. 
While Batshuayi possesses similar upper-body strength, he does not otherwise provide the same qualities the Ivory Coast striker brought to west London. He is not nearly as capable in the air, while his hold-up play and industry are not in the same bracket. It is for these reasons that Batshuayi had to play second fiddle to Andre-Pierre Gignac during his first year in France after signing from Standard Liege in 2014.
Last term, as OM's only recognised forward, he was given the full burden of responsibility of leading the line from the beginning of the season. A striker best suited to nipping in behind defences or finding a pocket of space in the box, he mustered a commendable 17 goals. Marseille, however, were eventually coaxed into signing Steven Fletcher in January not only to provide Batshuayi some respite but to make the offensive line more coherent.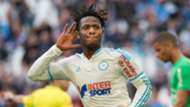 What was a catastrophic season for the club was a successful one for Batshuayi, whose steady progress continued. 
"Michy is a young player with lots of talent," Tottenham boss Mauricio Pochettino told RMC in April. "He's got a good deal of potential."
With Belgium, he has had little opportunity to impress this summer and has been restricted to the one fleeting cameo. Though he has made a very positive impression with the national team when given a chance, Wilmots has been loath to place his trust in the forward.
Batshuayi's first minutes for the Red Devils came when his side were 4-0 up in a Euro 2016 qualifier against Cyprus in March. He came on with 13 minutes remaining and scored with his first touch but would not be seen for Belgium again until a November friendly against Italy, when he found the net again.
Even after that contribution he has remained on the periphery, stuck behind the likes of Romelu Lukaku, Christian Benteke and Divock Origi. The player himself admitted to being "a little surprised" when Origi was introduced ahead of him as Belgium sought a goal against Italy. And little wonder; an arch poacher off the bench, Batshuayi is more accomplished in front of goal than the Liverpool forward and now has three goals in six appearances to Origi's three in 21.
Even Wilmots admitted that Batshuayi is "more of a penalty-box player" than any of his other forwards, though that might have been as much a criticism as a compliment. Although all of Belgium's attackers are quick and strong, they have different profiles and the OM forward does not provide what first-choice Romelu Lukaku can bring to the side.
"[Lukaku] runs the channels, tires and weighs on defenders, is always available for a pass and he gets on the end of Thibaut Courtois' clearances," Wilmots said on Tuesday. "He is so precious."
As a lone striker, there are certainly limitations to Batshuayi's game. Should Antonio Conte choose to utilise his favoured 3-5-2 system at Chelsea, it would give the forward the opportunity to work alongside a partner – something that would maximise his return in the short term.
If Batshuayi is to realise his potential and prove himself as a €40m man, though, he will have to diversify his game to more effectively play as a solo striker. Only then can he become first choice for club and country.
Goal journalists are powered by the Samsung Galaxy S7 and Gear 360