Jamie Carragher
Carragher suspended by Sky Sports after spitting at fan
Tom Maston & Nicholas McGee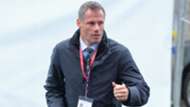 Liverpool legend Jamie Carragher has been suspended by Sky Sports after a video emerged of him spitting at a Manchester United supporter.
The ex-England international was forced to apologise on Sunday after footage of him spitting into a car, which contained a 14-year-old girl, came to light in the aftermath of United's win over their great rivals at Old Trafford.
Carragher has become a staple of Sky's coverage of the Premier League since his retirement in 2013.
But he is now set to spend some time off screen - starting with the 'Monday Night Football' show surrounding Manchester City's trip to Stoke City - after the corporation released a statement regarding his actions.
"Sky takes this matter extremely seriously and strongly condemns Jamie's actions, we have made that clear to him in person today and suspended him from his duties," it read. 
"It falls well below the standards we expect of our people."
Carragher himself appeared on Sky News in the wake of his suspension, saying: "You can't condone that behaviour in any way shape or form.
"[It was] a moment of madness, it is difficult to explain. Watching those clips back it feels like almost an out of body thing. A moment of madness for four or five seconds.
"You're actually thinking to yourself, 'Why did you react like that?' That's part of being a public figure. I just have no excuse. I'm devastated for the family involved and my own family.
"My biggest regret is for the 14-year-old to be caught in the middle of this altercation with the father. That devastates me a little bit more than anything else.
"I can't go back, hopefully they accept [my apology]."
Asked to explain why he should remain with the broadcaster, Carragher, who said he has not offered his resignation, replied: "There's no doubt what I have done is disgusting, I'm getting vilified and rightly so. 
"What I would hope for the public who have known me for almost 25 years in the public eye is that five seconds of madness will not take over everything I've done now.
"Hopefully going forward I can show the real me. I don't think that is a real representation of me."