Brazil
Cantona mocks Neymar with 'spaghetti al dente' haircut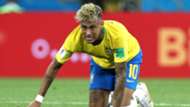 Neymar has become the latest football star to feel the wrath of Eric Cantona's acid humour as the Brazil star's curious new hairstyle was mocked by the idol. 
The Paris Saint-Germain striker caused a stir on Sunday by taking to the field with a bleached blond look that invited much comment. 
More than a few observers pointed out that Neymar's new do resembled an upturned bowl of spaghetti, although he did win a few admirers. 
In any case the new-look Neymar failed to inspire his team to victory, as the Selecao were held to a 1-1 draw by Switzerland in their World Cup opener. 
But the unorthodox coiffure did attract the attention from Cantona, who set out to emulate the star on his Instagram page. 
"Neymar style...spaghetti al dente!" the former Manchester United legend wrote on the social media site as he held up a picture of Ney. 
Cantona did indeed dump a bowl of pasta over his head to recreate the look, although his grey-flecked beard admittedly meant the resemblance to Brazil's star was only passing. 
Ney and the rest of the Brazil team will try and banish memories of that lukewarm World Cup start on Friday, when they take on Costa Rica. 
Will the No.10 and his hairdresser have another surprise in store for us?