DeAndre Yedlin
Americans Abroad: Big weekend for Newcastle and DeAndre Yedlin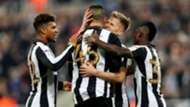 A return to the Premier League is not exactly on the line for Newcastle United this weekend. 
With 14 games remaining in the season, anything can happen, but this would be a great weekend for the Magpies to make a move. 
Acosta showcases offseason growth
DeAndre Yedlin and company take on Bristol City at St. James' Park on Saturday and enter the match holding a one-point lead over Brighton at the top of the table. The club is also five points clear of third-place Huddersfield and nine clear of fourth-place Reading.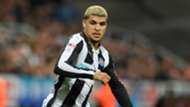 With Bristol sitting near the bottom of the table and the game at home, dropping points would be a disaster for Newcastle. But a win could create exactly the type of separation the team needs as it heads into a three-week run against the clubs immediately behind it in the table. 
Brighton and Reading face off this weekend, so there's no way for both clubs to pick up maximum points, and Huddersfield is facing a tricky test away from home against Barnsley. 
A win over Bristol assures Yedlin's side of picking up points on at least one of three sides closest to it, and could open up as much as a four-point lead at the top of the table, with second-place Brighton on tap for next week. 
Wondo: Done with MLS when I retire
Bobby Wood is hoping to be back in the team as Hamburg travels to Munich to take on Bayern. The striker missed his club's draw with Freiburg with a thigh injury, but returned to training this week. Hamburg has made a move out of the bottom three since the return from the winter break, but it goes without saying trips to the Allianz Arena are never easy.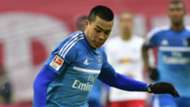 Speaking of teams making moves, Borussia Dortmund has climbed all the way into Germany's top three. Christian Pulisic has been working mostly as a substitute for the last month, but has seen playing time in every match. Dortmund is on the road against Freiburg this weekend and looking to solidify its hold on a Champions League place. 
There's a big match in Mexico Friday night, with Tijuana taking on Monterrey in a battle between the third and fourth teams in the table. Tijuana has hit a bit of a skid recently in Liga MX, falling off the top of the table and could use a home win to get back on track. Paul Arriola and Joe Corona both started in the club's last league match against Pumas.