Christian Atsu
Atsu reveals secret behind brilliant form at Newcastle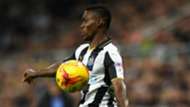 Newcastle United midfielder Christian Atsu has revealed that an advice given to him about big games has helped his campaign in the Championship this season.
The 25-year-old was tipped for success by many pundits when he joined Premier League giants Chelsea from FC Porto in 2013.
However, he failed to break into the Blues' first team, leading to numerous loan moves to clubs like Vitesse Arnhem, Everton, Bournemouth, Malaga and recently Newcastle.
It is at Newcastle that the winger seems to have finally settled down following a consistent performance in the club's run to make a return to the Premier League.
"When you are at a big club like Newcastle, you have to show your talent in big games," Atsu told The Northern Echo.
"There are going to be the matches that will decide your season. I remember I was being told from a very early stage in my career that it is the big games where you see the good players."
Atsu played a crucial role in his side's victory over Brighton & Hove Albion on Tuesday, claiming the Man of the Match award.
"If you are a good player, you look forward to the chance to influence a game like that. And as you have seen all season, our team is full of good players," he added.
Atsu has made 21 appearances for Newcastle this season, scoring three goals. They will travel to Yorkshire to take on third placed Huddersfield Town in a top of the table clash on Saturday.