Chapecoense
Arrest made over Chapecoense airplane crash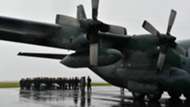 Bolivian authorities have arrested the chief of the airline involved in the crash that last week killed 71 people, including most of the Chapecoense football team.
What really happened to Chapecoense's tragic flight?
It has been revealed that Gustavo Vargas, a retired air force general, has been detained as part of an investigation into the crash involving the LaMia airline.
The Brazilian side were scheduled to play at Medellin's Estadio Atanasio Girardot for their Copa Sudamericana final first leg against Atletico Nacional but the plane they were travelling on ran out of fuel and crashed in Colombia.
Chapecoense have since been named as the winners of the Copa Sudamericana by South American football's governing body CONMEBOL, after their final opponents called for the Brazilian side to be given the title.
"CONMEBOL's Council has decided to declare Chapecoense as the champions of the 2016 edition of the Copa Sudamericana, as well as grant Atletico Nacional the extraordinary recognition of the 'CONMEBOL Centenary Fair Play' prize," a statement released by the organisation read.
Chapecoense are to receive "all the sporting and economic prerogatives that this entails", CONMEBOL confirmed.
Atletico have been rewarded for their gesture with a fair play prize.