Arabian Gulf League
Arabian Gulf League: Pro League Committee in talks with Deloitte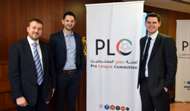 The PLC's meetings with financial services company Deloitte carried on for a second day on Thursday at the UAE Football Association offices.

This series of meetings aim to study the current financial situation of the Arabian Gulf League and the football companies with the objective of reaching a mechanism to help clubs control expenditure and link it with the club licensing system.

Waleed Al Hosani, acting CEO of the PLC insisted the it is working to develop all aspects of its competition.

Suarez: Messi is the best of all time
"Our directive in the PLC is to reach the top and to benefit from the best global practices. We appointed Deloitte with a mandate from the clubs. Our two-day meeting was productive and we will continue working in the upcoming period to reach our objectives."

Paul Rawnsley, Director at Deloitte also expressed his satisfaction with the proposed relationship. 
"We are happy with the collaboration with the PLC in this club development project. It is an indication of the PLC's keenness to develop its competitions," Rawnsley said. 

Sampaoli is dedicated to Sevilla
"We are a global company, working with various sport sectors across the world. In the past 20 years we worked with around 50 sporting establishments and leagues in 40 countries to help leagues and clubs develop sporting competitions".

Rawnsley went on to explain that the challenge the PLC presents is one they're well-versed in.
"Our current project with the PLC is not something new for us, we have done the same before in multiple countries, so we are trying to offer our expertise in this area by working with the PLC and football companies to benefit from the best practices. What is available somewhere else may not necessarily be applicable here in the UAE, therefore, we will be working with the PLC to develop a mechanism to be implemented in the future to achieve financial sustainability for clubs, regulate spending, minimise reliance on government support, assist clubs in increasing their revenues and balancing revenues with expenditure."