Omar González
'All or nothing' for Omar Gonzalez and Pachuca against America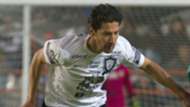 Pachuca center back Omar Gonzalez says the team has had a promising start to preparations ahead of a must-win match Saturday against Club America.
Pachuca must get a victory in the Estadio Azteca to advance to the Liguilla, with a draw insufficient to get into the top eight. While Tuzos have had excellent moments in recent history, winning the CONCACAF Champions League last week after winning the 2016 Clausura, Gonzalez said the added matches have made it difficult to find a rhythm in league play.
Mexican refs show potential power of players union
"This game against America is all or nothing," Gonzalez said. "This is the first week where we've been able to have a good, full week of training because since March we've had two or three games a week, which didn't give us the chance to train well. So, this week has started well, we're giving everything because we know we have to go to the Azteca at 100 percent to be able to win."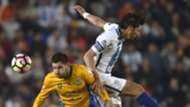 The club nearly saw its Liguilla hopes slip away last week, with visiting Cruz Azul holding a 2-1 lead late at the Estadio Hidalgo. But 44-year-old goalkeeper Oscar "El Conejo" Perez came up from his box and headed in an equalizer to make sure a playoff berth is still a possibility.
WATCH: 44-year-old GK scores dramatic equalizer
The United States international said he was impressed with the goalkeeper's equalizer, "even more so because he's a senior citizen," Gonzalez said with a laugh. "No, but it was impressive and it's really great that El Conejo scored the goal to save us. He was the hero Saturday."
America needs just a draw from the contest with Pachuca to clinch a spot in the postseason. The match is set to kick off at 10 p.m. ET on Saturday.