Premier League
Akonnor reacts to AshGold chief Acheampong's alleged 'falsehood'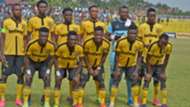 Ashanti Gold former coach C.K Akonnor has threatened a legal suit against the club's chief executive officer Frederick Acheampong following comments about him after his exit.
The 43-year-old parted ways with the former league champions last week, after only a nine-month stay, following reports of abandoning his role to be a television pundit for the ongoing World Cup in Russia.
And according to Acheampong, the former coach was a burden to the club since he was 'selfish, arrogant and power drunk' but Akonnor denied those claims in a press statement released on Wednesday.
"My attention has been drawn on several statements being peddled around by AshGold CEO Mr. Acheampong Frederick after I agreed to part ways with the club," the statement read.
"I wish to state that as a professional, I respect my contracts as a coach with any club I've worked with and does same even after leaving the club. I have been a player for the club before and I'm proud to have returned to the club as a coach."
"I, however, wish to draw the attention of the CEO of the club to stay away from telling blatant lies about me aimed at tarnishing my image. His incessant discussion of my private issues including my salaries on public radio and other public platforms must cease since I am no longer his employee. 
"My contract with the club before I left did not permit them to make my financial engagements public and I will entreat him to respect that and desist from discussing my private issues in public," the statement added.
"Again, I wish to state that whether I was sacked or we parted ways mutually, our marriage has broken up and we must accept and move on, instead of his consistent attempt to take me to the cleaners. 
"The football industry is a big one and so far as we continue to live by it, we are likely to meet again one day, so it will be better for him to keep quiet about me before I am forced to slap him with any legal suit."
Ashanti Gold are second on the league table, tied with leaders Medeama on 27 points after the first round of the season.