Real Madrid
'I don't know how much longer I'll be here' - Zidane thriving on uncertainty at Real Madrid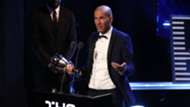 Real Madrid coach Zinedine Zidane has admitted that he does not know how long he will remain at the Bernabeu, but that he is determined to enjoy every day. 
The Frenchman has achieved incredible success in his 18 months in the top job, bringing home two consecutive Champions League crowns as well as the 2016-17 Liga title. 
Real 6/4 to win La Liga with dabblebet
Zidane will be aware, however, that success is no guarantee of job security at the Blancos. 
Since Fabio Capello left the Bernabeu at the end of the 2006-07 season Madrid have gone through seven different trainers, with only Jose Mourinho managing to keep his position for more than two terms. 
For that reason Zidane is taking every day as it comes. 
"[The stage] is not my favourite place, I enjoy myself more on the pitch because we have passion and I am delighted for the players," Zidane joked at Monday's Best FIFA Football Awards when he was quizzed on his rather awkward performance upon accepting the Best Men's Coach gong . 
"It is a lot of work, for them more than me. I have been here for 18 months and while I don't know how much longer I'll be here, I am enjoying it."
"A third Champions League? Yes, it is possible, we are going to try. You all know that it is winning that drives us on."
Zidane was also keen to place his players at the forefront, on a night when Cristiano Ronaldo was named Best Men's Player and Luka Modric, Toni Kroos, Marcelo and Sergio Ramos joined him in the FIFPro World 11 .
"I am delighted with this prize, it is the culmination of a lot of hard work, and I repeat what I said up there: I am grateful to this club and above all the players because in the end they are the ones who play," he added.
"How much do Real Madrid players have to thank me for? I don't know, you'd have to ask them. I am the boss and the guy who works with them but there are a lot of people here and we all work well together. There is great talent here and where there is talent great things can be achieved.
Having made the headlines on the weekend with his comments on the Lionel Messi and Ronaldo rivalry, Zidane cut a more cautious figure on Monday when the issue was brought up again.
"Messi or Ronaldo? Wait for later down the road because a lot can change, Neymar is there, Iniesta too, there are a lot of great players, but the pair are doing well," he explained.

"Will the Messi-Ronaldo cycle finish? I don't think so, I don't know."