WTF
'I went too far sucking the chicken' - Evra explains 'nasty' Thanksgiving video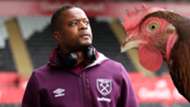 Former Manchester United and West Ham full-back Patrice Evra has apologised for the peculiar video he posted on his Instagram  that showed him caressing a raw chicken – even going as far to close his mouth on its bare leg.
The video, he has since admitted, was an early celebration of the U.S. holiday of Thanksgiving, which is observed the third Thursday of every November.
The former France international is known for his quirky and offbeat Instagram videos, but his too-close-and-personal relationship with his chicken was just a step too far for many and became a viral sensation.
He has now explained the irrational choice of video, and acknowledged that he had crossed the line.
"Yo! Yesterday I posted a video and it went wild, it went crazy," Evra said in a new Instagram post.
"It was just for Thanksgiving. Some people find it funny, some people find it weird, some people find it disgusting. We're all different, thank God.
"I just cuddled, I just kissed the meat. Yeah, I went too far when I sucked the toes of the chicken… it was a bit nasty, nasty. But come on! Now people wish [on me] the salmonella!"
Evra was also criticised by vegan activists for his treatment of the raw bird, and he quipped: "I see the vegan people crawling in my garden, eating the grass. And I don't say anything! Sometimes I see that they even have the bell around their necks like cows –  ding, ding, ding!  
"They eat everything – the flowers, the grass! We need trees! I love this game!" Eva finished.