Premier League
World Cup winner Arbeloa retires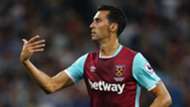 World Cup winner Alvaro Arbeloa has retired from professional football.
'Messi could have played for Real Madrid'
A highly-decorated defender, Arbeloa won 58 caps for Spain, and has won two World Cups and the European Championship at international level.
The 34-year-old, who spent the majority of his career at Real Madrid, also won the Champions League twice at club level, along with La Liga.
Arbeloa also played for Deportivo La Coruna and Liverpool, scoring two goals in 69 appearances for the latter, but finished his career at West Ham, for whom he played four games.
"It's time to say goodbye," he said. "Physically I was ok to keep playing."
Speaking to Marca, he has suggested that he could well return to Madrid in a non-playing role.
"Madrid is the club of my life, I will never call to ask for a job, but I am always available to offer myself," he said.